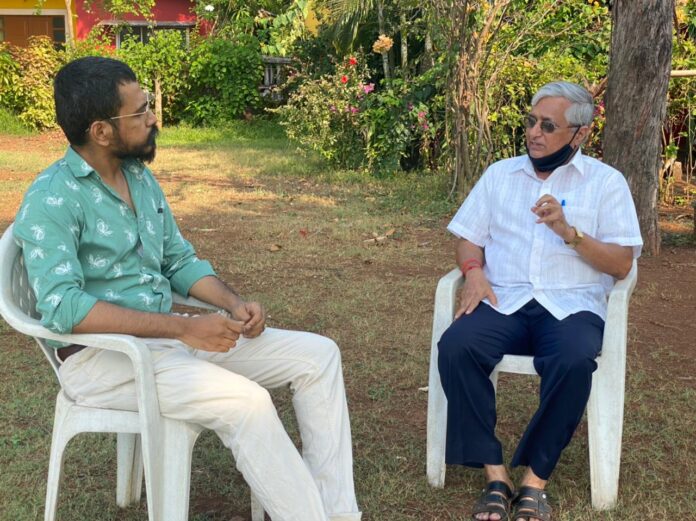 Panaji : GNH interviewd Bhartiya Bhasha Suraksha Manch(BBSM) Goa state convenor, Subhash Velingkar. The movement which demandes grant in aid from the government for local regional language schools is resuming. This movement  has completed 10 years which has been led by Subhash Velingkar who belives local languages should flourish.
Velingkar asserted "There is a misconception among people that BBSM is against english language which is not true at all, anyone who is interested to learn english has the freedom to do so. BBSM's only argument is that  accross the country local laguages have been given priority but in Goa grant in aid is given to english medium schools which is unacceptable"
"One needs to learn through local languages, this trend is followed throughout the country, BBSM is against government who has given grant in aid to english schools we belive at least at primary level grant in aid should be given to regional language schools"
"Regional Language connects an individual to his/her culture hence government should give grant in aid to only konkani and marathi medium schools "
Do you have support of any political party for your cause except 'Goa Suraksha Manch' (GSM) ?
"Unfortunately no, Initially we had an alliance of MGP, Shivsena and GSM but in subsequent years Sudin Dhavlikar made a press statement saying the language issue is no more which was untrue, hence we had to naturally leave alliace with MGP. In later years political parties have fallen prey to minority appeasment politics. We had support from RSS too but due to pressure from BJP they have withdrawn thier support too, now those who are unhappy with this stand have formed Bharat Mata Ki Jai Sangh' of which I am the chief"
Marathi and Konkani supporters are having dispute with each other what happens to them once you succeed by getting grants in aid for local lnguage schools?
"Through our language movement Mrathi as well as Konkani supporteds have come together for figh for a single cuase, they have been demanding grant in aid for both the languages hence if we suceed this dispute will not arise btween the two local languages"