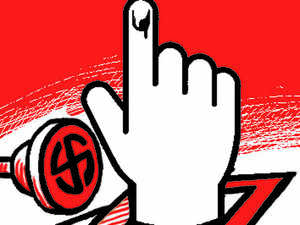 Panaji: The five year term of the 16th Lok Sabha is due to expire on 3rd June 2019. Taking into consideration all the constitutional and legal provisions, the Election Commission of India has made comprehensive preparations for the conduct of elections to the 17th Lok Sabha in a free, fair and peaceful manner.
All citizens who turned 18 years on 1 January 2019 and registered as electors will get an opportunity to cast their vote in the upcoming Lok Sabha elections to two Constituencies and three Assembly segments on April 23, 2019. The poll timing are from  07:00 am to 6:00 pm. Electoral Rolls has been verified with reference to 01-01-2019 as the qualifying date .
The total electorates in the state are 1131618 as on 10/03/2019. Presently there are 1652 polling stations. 810 in South Goa and 842 in North Goa. As per the instruction of Election Commission every polling station will be equipped with assured minimum facilities (AMF) like drinking water, shed, toilet, ramp for the physically challenged voters and standard voting compartment.
In this election VVPATs will be used along with the EVMs at every polling stations in the state. The Commission has already made arrangement to ensure availability of adequate number of EVM and VVPAT for smooth conduct of elections.
All electors who have been issued EPIC shall produce the EPIC for their identification at the polling station. Those electors who are not able to produce the EPIC shall produce one of the documents such as:  Passport, Driving License, Service identity cards with photographs issued to employees by Central/ State Government PSUs/ Public Limited Companies, Passbook with photographs issued by the Bank/ post office, PAN card, Smart Card issued under the scheme of Labour, MNREGA job card, Health insurance smart issued under the scheme of M/o Labour , pension documents with photographs, officials identity cards issued to MPS/ MLAs/MLLS and Aadhar Card.
For the smooth conduct of General Election for Lok Sabha 2019 and Bye Election to Goa, the Election Commissioner of India has appointed, seven General  Observers, 3 Expenditure Observers and one Police Observers for two Parliamentary Constituencies (PCs) North Goa District and South Goa District and three Bye Elections.
These Observers have reached at their places of service and are available for the general public and political parties. Their contact numbers are given hereunder along with their areas/places of services.
The General Observers for South Goa are Ms Indra Mallo, IAS, has been deployed as General Observer Ponda, Shiroda, Marcaim, Mormugao, Vasco- Da – Gama, Dabolim, Cortalim, Nuvem, Curtorim and Fatorda Parliamentary Constituency with No.  9370951729 and Ms Monalisa Goswami, IAS has been appointed as General Observer for Margao, Benaulim, Navelim, Cuncolim, Velim, Quepem, Curchorem, Sanvordem, Sanguem and Canacona with No 9370951731.
The General Observers for North Goa are Ms Manisha Trighatia, IAS has been appointed as General Observer for Mandrem, Pernem, Bicholim, Tivim, Mapusa, Siolim, Saligao, Calangute, Porvorim, and Aldona Parliamentary Constituency with contact no 9607921015 and Ms Sudipta Chatterjee, IAS, has been appointed as General Observer for Panaji, Taleigao, Santa Cruz, St Andre, Cumbarjua, Maem, Sanquelim, Poriem, Valpoi and Priol with contact no 9607921010.
The General Observer for Bye Election for Mandrem is Ms Ruby Borah, with contact no 9607921012; Ms Jineviva Kindo, IAS is appointed as General Observer for Mapusa with contact no 9607921011.
Aprajita Sharrma, IP & TAFS has been appointed as Expenditure Observer for all Assembly Segments for South Goa with contact no 9370951724; Ms Naina Soin Kapil, IRS with contact no 9607921013 and Ila M. Parmar with contact no 9607921014 are appointed as Expenditure observer for North Goa..
NaveenSingla, IPS has been appointed as Police Observer for all Assembly Segments for South Goa and North Goa.
In order to ensure free, fair and peaceful conduct of General Election for Lok Sabha 2019 and Bye Election to Goa  both the  District Magistrate of  Goa had imposed complete ban on carrying all types of Arms and fire arms and lethal weapons within the South Goa District, to ensure a free, fair, peaceful and orderly conduct of the Election process and to prevent any sort of obstructions, annoyance or injury to any person lawfully employed or for conduct of election to prevent any danger to human life, or safety, or disturbance of public tranquility or riot, of any affray during the electioneering period.