Porvorim: Cutting across the party lines,  political leaders on Friday participated in the blockage of the National Highway at Porvorim  protesting against union government's action of giving Environment Clearance for Karnataka to construct a dam at Kalsa-Banduri project on Mahadayi river.
The protest comes ahead of November 4 all-party delegation from Goa scheduled to meet Union Environment Minister Prakash Javadekar in New Delhi. The protesting leaders have demanded that Chief Minister Pramod Sawant should resign, if he could not get appointment with Prime Minister Narendra Modi.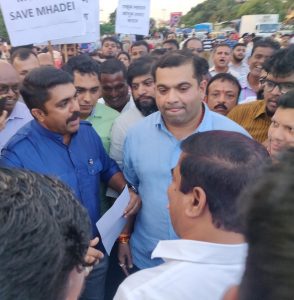 Former Deputy Chief Minister Vijai Sardesai, former State Revenue Minister Rohan Khaunte, Goa Pradesh Mahila Congress Committee President Pratima Coutinho, Goa Shiv Sena chief Jitesh Kamat and several representatives of NGOs were part of the protest which was called by apolitical entity – Progressive Front of Goa.
The protestors blocked the National highway at Porvorim village on the outskirts of Panaji for almost one hour before Deputy Chief Minister Chandrakant Kavlekar met the leaders. Kavlekar assured to convey the sentiments of the protestors to Sawant, who is currently on Karnataka visit.
Khaunte demanded that Sawant should head the all-party delegation to the PM instead of meeting Javadekar, who had given Environment Clearance to the project. He said that if Sawant could not get the appointment of the PM, he should resign from the post.
"The issue of Mahadayi is non-negotiable. There can be no compromise on the issue at any cost," Khaunte said.
Sardesai claimed that the stunt of taking all party delegation to Delhi is "merely an eye wash."
"We are going to be the part of the delegation to see what is being discussed in the meeting. We won't allow Mahadayi to be sold," he said. Sardesai stated that his party – Goa Forward Party – is participating in the delegation to avoid being tagged as "non-cooperative."
He accused Sawant-led government of trying to sell out Goa and demanded that the Environment Clearance granted for the project be scrapped.
On Friday, Sawant had announced to take the all-party delegation to New Delhi.
Union Minister for Ayush and North Goa MP ShripadNaik, Rajya Sabha MP Vinay Tendulkar, Goa's Minister for WaterResources Filip Neri Rodrigues along with the representativesof the Congress, Maharashtrawadi Gomantak Party (MGP), GoaForward Party (GFP) and Nationalist Congress Party (NCP) willbe part of the delegation.
Advocate General Devidas Pangam, Chief EngineerSandeep Nadkarni and members of Mhadei Bachao Abhiyan (MBA)Nirmala Sawant and Rajendra Kerkar will also be part of it.