Valpoi: Located in a forest and surrounded by hillocks, the waterfall in the Nagargao village in Sattari taluka is drawing huge crowds in monsoon season, but this year villagers from Nargargao Panchayat demanded to stop the movement of tourist due to covid pandemic. The delegation led by patch member Parag Khadilkar submitted a memorandum to Deputy Collector Mangaldas Gaonkar.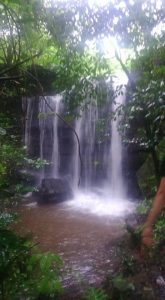 This small waterfalls in this tiny village located about 45 km from the capital city attract a lot of visitors from July to October when the rains lash the region. The overflowing water from the hillocks turns into the waterfall at more than ten locations, said panch member Parag Khadilkar.
He further says "our villagers have decided not to allow any outside tourist in our village as one of the reason is ongoing pandemic, we don't know who is affected with virus and this tourist may spread covid virus in my village and in past few years we have seen unruly behaviour, they come here, drink alcohol, breaks alcohol bottles in water, throw garbage in forest area and pollute our nature".
Deputy Collector Mangaldas Gaonkar said he received a memorandum from villagers from Nagargao Panchayat for not allowing any tourist in there village due to covid pandemic. I have taken a meeting with all departments like forest, police, PWD, electricity and have discussed problems pertaining to monsoons. Regarding tourist coming to waterfalls in Sattari, picnicking is ban due to this covid pandemic, I have instructed the PI and forest department to keep their officials at the spot on Saturday's and Subdays and not to allow any tourist movement.