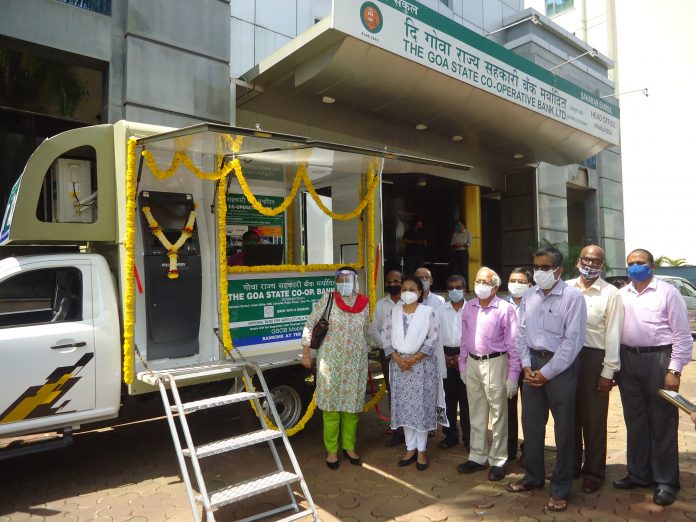 Panaji: The Goa State Co-operative Bank (GSCB) launched its first mobile ATM Van on to reach out to remote corners of the State, especially in South Goa. This Mobile ATM Van is also having a banking counter.
The mobile ATM van is was inaugurated by Chief General Manager of NABARD Kamakshi S Pai Other dignitaries who were present for this function were OIC NABARD Usha Ramesh, Registrar of Co-operative Societies Vikas Gaunekar, Chairman of Bank Ulhas B. Phal Dessai, Vice Chairman of the Bank Pandurang N. Kurtikar, Directors of the Bank Krishna V. Kudnekar, Premanand Chawdikar, Upasso P. Gaonkar, Chairman of Goa State Co-op. Marketing & Supply Federation Vithal S. Vernekar, CEO of Thrift Co-operative Association Salu N. Bhagat and Managing Director – I/C of the Bank Anant M. Chodankar.
Chairman U. B. Phal Dessai informed that Mobile ATM Van was sanctioned by National Bank for Agriculture & Rural Development (NABARD) through Financial Inclusion Fund (FIF) of NABARD. "The sanction was made during the pre-covid -19 in February 2020 and due to lockdown the delivery of the vehicle got bit delayed. The Van will help the customers of the Bank, as they have to travel around 25 kms to access the Banking facility in rural areas and now we will be able to reach out to them," he added.
He further informed that Bank has requested another mobile van so that Bank can serve the customers in North Goa too. Banking at the Door-step is required as people are not able to access Banking facilities due to old age and lack of transport, he added.
Kamakshi Pai while inaugurating mobile ATM van said that NABARD has sanctioned the GSCB a mobile van which can go to the villages and remote corners in the State. "This will help old aged pensioners, widows, farmers, etc. who do not have easy access to the Banks and the ATM. We wanted to give these people door-step banking," she added
U. B. Phal Dessai thanked Kamakshi Pai who is retiring from her services for her guidance to the Bank on many occasions and wished her happy and healthy retired life. He also extended gratitude to all the previous Officers-In-Charge of NABARD for being supportive and helpful in the past. Pai will be succeeded by Usha Ramesh.
Speaking in the occasion, Vikas Gaunekar said that this Mobile ATM van should be equipped with latest technology for better connectivity especially in villages.
Pandurang N. Kurtikar Vice Chairman proposed vote of thanks.