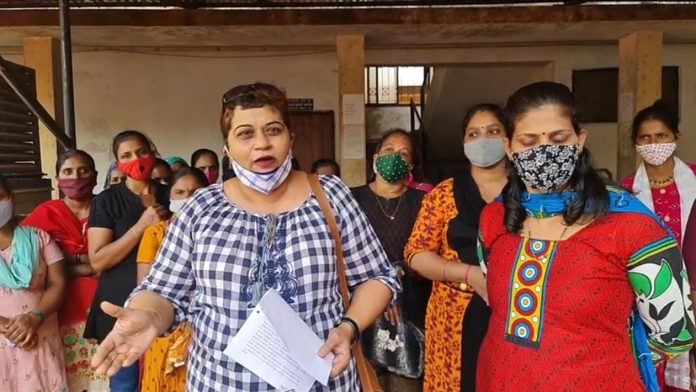 Porvorim:A group of women from Porvorim on Wednesday went to District Police Headquarters seeking to know what action has been taken in regards to the complaint filed by them with the Superitendent of Police (North) against Police Inspector of Porvorim and another constable for hitting them during the morcha on PWD office last week.
The group demanded justice to them as the state commemorated Elimination of Violence Against Women Day on Wednesday.
The women found that the SP North Utkrishta Prasoon and DySP Edwin Colaco were not available to respond to their questions. They had lodged a formal complaint with SP against Povorim Police Inspector Ninad Deulkar and another male constable for hitting them.
Marina Moraes, Chairpersonof Self Help Group Federation, said that it is shocking that senior officers have abandoned their offices, leaving the locals in difficult situation.
She said that the women had led the morcha in a very peaceful manner as they were irritated and frustrated over the irregular water supply. "Male policemen who were standing behind women constable hit the women with lathis. The attack was without any provocation," she said.
Moraes said that the women of porvorim want to know what action has been taken against the PI and the constable. "Police cannot assault those who had gone there asking for basic needs," she said.
On international day of violence against women, it is a matter of grave concern that women have to protest against police violence!
Another lady, Kalpana Morajkar, who was part of the group, said that Porvorim locals have been facing acute water shortage. Local MLA Rohan Khaunte has been helping out by providing water tanker to the people. But how long can anyone survive on such arrangement. "We had gone to the PWD department asking for basic amenity," she said.
Morajkar demanded that the action should be taken against Deulkar and the constable to ensure that women in the area feel safe.