Panaji: The Goa Cancer Society has decided to support Make-A-Wish Foundation, a non-profit organisation working relentlessly to fulfill the desires of young patients, by donating Rs 1 lakh per year so that the group can work relentlessly for the needy patients.

Make-A-Wish Foundation was established 24 years ago and so far it has fulfilled 67,389 wishes. The Foundation is exclusively dedicated in granting the most cherished wish of children between 3 and 18 years, who are diagnosed with a life-threatening medical condition mostly cancer.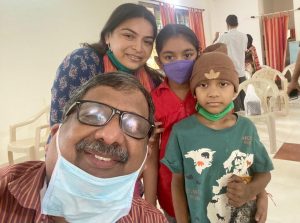 In an occasion, Goa Cancer Society along with Make A Wish Foundation fulfilled the desires of 10 cancer patients. The event was attended by Vice President Dr Suresh Shetye,Secretary Dr Mahesh Naik, Dr Shekhar Salkar, Dr Sitakant Ghanekar and the other members.

"Today, we met 10 children, who are suffering from cancer. We fulfilled their wishes. Five children wanted bicycles, three wanted laptops and rest wanted mobile phones . All their wishes were granted by the Goa cancer society. It was a very satisfying experience to see smiles on the faces of these children and their parents," said an elated Dr Salkar.