Panaji: Tika Utsav'- that marks the beginning of the second big war on COVID-19 as said by the Prime Minister Narendra Modi, in Goa saw a good response on the very first day, with 8,189 eligible people getting vaccinated.
"Glad to see the positive response for Tika Utsav. There has been tremendous participation for the COVID-19 vaccination in the State of Goa. Together, we will fight and defeat the virus," the Chief Minister Dr Pramod Sawant tweeted.
Launching the four-day long drive from April 11-14, the Prime Minister had several suggestions to people on tackling the novel coronavirus pandemic and urged them to focus on personal and social hygiene. In a statement, he urged people to keep four things in mind, including "each one, vaccinate one", "each one, treat one" and "each one, save one".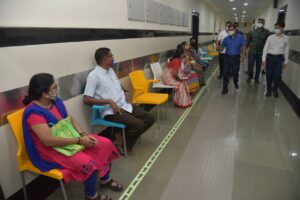 As per the statistics available from Directorate of Health Services, a total of 4,341 people were vaccinated across 16 panchayats today.
There were 3,848 people who took the vaccine at various public and private hospitals.
The drive was held across 16 panchayats mainly, Pilerne, Penha-de-Franca, Socorro, Pirna, Thane, Nagargao, Nachinola, Morjim, Narve, Oxel, Merces, Korgao, Pale, Mencurem, Poinguinim and Cumbharjua.
The Chief Minister has already announced to extend the drive it till April 20 to ensure that everyone, above the age of 45 are vaccinated. If required, he had said that the Utsav will be held till April 30, so that no one is left out.
The Chief Minister, Health Minister Vishwajit Rane and BJP President Sadanand Shet Tanavade as well as the local MLAs, visited various panchayat to see the public response. Several youths were roped in to reach out to the beneficiaries and create awareness on the vaccination.
"I have full confidence that with this people's participation, awareness and fulfilling our responsibility, we will again be successful in containing coronavirus," the Prime Minister Narendra Modi has said in statement issued.