Buildings in Goa are an amalgamation of styles. Since Goa was ruled by the Portuguese for 451 years we have a beautiful mixture of Goan and Portuguese architecture. One of the most stunning designs which stands out amongst all the other Indian architecture is Goan Portuguese Houses and their balcão. 
The crowning element of the Goan house is the balcão, which can be described as an elongated porch that has seats built into the sides reached from a flight of steps. These seats lie parallel to each other and in between towards the end a door opens into the house. The balcão was a device to open the house out to the outer surroundings.  Balcão, is basically an In-built seating arrangement which truly capture the 'sussegad' spirit of Goa, where afternoons are meant for relaxing in shaded verandahs, napping in the afternoon breeze and enjoying the company of friends and music in the evenings.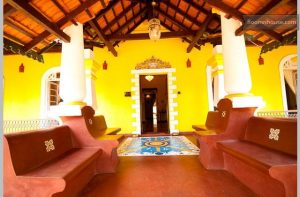 "Balcão, had originated in Portugal it was built by rich families where unmarried women would often chit-chat and gossip with their kith and kin," writes Adv Pandurang Nagvekar in his book 'Goamantakachi Bakhar',  When the Portuguese invades came to Goa they brought with them their customs, religion and their architecture. 
 Many Goans have still retained and maintained these old houses with their beautiful balcão. This structure emerged as cultural boon in 18th and 19th Century however since many of these structure are very difficult to maintain people have abandoned them or destroyed. It's time we save these heritage structures before it's too late.