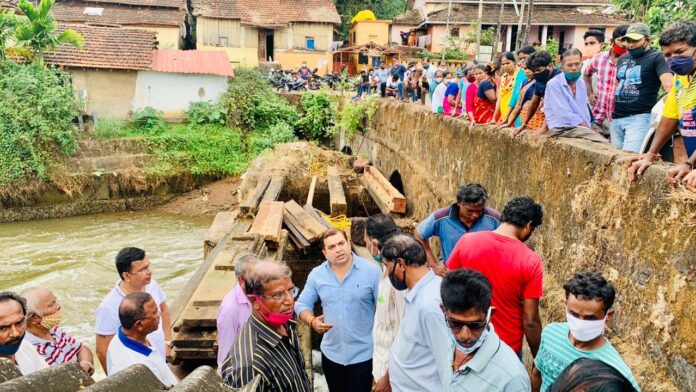 Porvorim: Several paddy fields at Salvador do Mundo were inundated on Friday after Char Manas and Sa Paul bandhs breached.
Local MLA Rohan Khaunte who rushed to the spot has alleged that the incident has happened due to failure to repair the bandh, and illegalities related to its auctioning.
The farmers were in a rude shock when they realized that the breaching of sluice gates have resulted in inundation of their fields, incurring losses of lakhs of rupees.
Khaunte had brought this issue to the notice of District Collector, a fortnight back but no action was initiated.
The MLA held local tenant associations responsible for the inundation alleging that police and other authorities were bribed by them to shield their actions.
Khaunte said that despite the fact that the work order to repair the Bandh was issued in July, the association continued fishing there, resulting in the disaster.
He recalled that during his tenure as Revenue Minister, the report certifying safety of the bandh was made mandatory before auctioning them. Khaunte alleged that the practise is not currently followed by the department. He said that the bandhs are usually auctioned by December 15 but still they have not taken up the process.
He said that the tenant association has assured to compensate the farmers. He said that the local panchayat has been asked to file police complaint about the incident as tenant association will have to be answerable for this.