New Delhi: Mr Churchill Alemao, MLA of Benaulim alongwith Ms Valanka Alemao met the Parish priest, Fr Jose of the Little Flower Church in New Delhi as well as its parishioners and pledged their full support to fight the grave injustice of the demolition of the church by the Delhi authorities.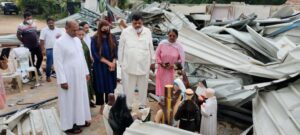 Mr Churchill pointed out that the Parish Priest, Fr Jose alleged that the notice was pasted on the wall on late Friday evening and that since the ensuing Saturday and Sunday were holidays it was not possible to seek legal intervention much more so that the authorities razed the church on Monday. It was shocking to see that the statues of saints were broken and venerable articles destroyed which only provoked outrage with the Christian parishioners since it deeply affected their sentiments.
Ms Valanka Alemao said that Fr Jose alleged that the order was concerning an interim High Court order of 2015 and what was all the more shocking is that it pertained to a Mandir in Ramesh Nagar in North Delhi, thereby there being no connection with the Church.
Mr Churchill stressed that Fr Jose had stated that what was quoted was a different, wrong order and as such that it was a deliberate case foisted against the minorities.
It was heartbreaking to listen to those who were unjustly affected. Mr Churchill hoped that that truth will prevail and justice delivered with the Government not only punishing those involved in the uncalled for illegal and uncalled for demolition but also restoring the church with the official responsible for the unjust demolition being taken to task and even terminated from the job for the arbitrary orders which sadly affected the minority community, added Mr Churchill, who pointed out that he had tears as he listened both to Fr Jose as well as the depressed parishioners.
I fully stand with the church as well as the parishioners in this hour of uncalled for persecution Mr Churchill stated from New Delhi today on Saturday.
Ms Valanka highlighted that this is a clear case of intimidating the Christian community done deliberately to suppress the fundamental rights as enshrined in our Constitution. The High Court is very clear – it has no relevance to this Church. It talks about a Mandir. As such this illegal act on the part of the authorities needs to be condemned in the strongest terms as it is a clear signal of instilling fear among the minorities. The way they went about the demolition is simply not acceptable in a democratic set up and as such the Government has to not only tender a public apology but also restore the church to its original position immediately, remarked Valanka. It is a premidated act of vandalism, added Valanka.