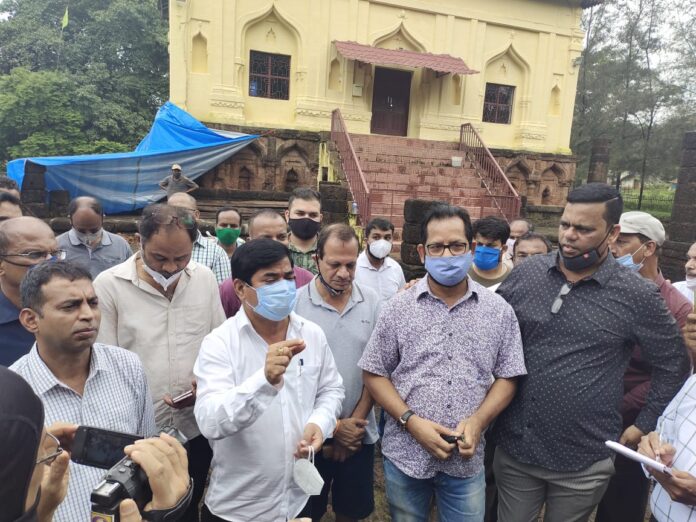 Panaji : Safa Masjid, a 16th century monument, had suffered damages due to incessant rains. Dy CM Chandrakant (Babu) Kavlekar and Art and Culture Minister Govind Gaude visited the site today to inspect the retaining wall which was damaged.

They were accompanied by ASI officials, Safa Masjid President Mulla Murtuza and committee members.
"Government of Goa is committed to protecting the historical monument. We already initiated work to prevent more damage being caused by the rain. The further maintenance would be done once rain stops," said Kavlekar.


The Government has  formed the Coordination Committee of the Goa Government to look after historical monuments under the Chairmanship of CM Pramod Sawant.
Gaude informed the media that the Safa Majid Committee Members are demanding  to  extend the flyover on National Highway  to move safely in the area.He said the concern demand would be put forth before National Highway Officials and ASI. The committee has also demanded for a parking space and widening of the gate.
Amarnath Ramakrishna, superintending archaeologist of 
Archaeological Survey of India-Goa had informed that "Due to heavy rainfall the water level in the tank increased and the laterite rock loosened, because of which the portion collapsed"  
Safa Masjid is the lone surviving Masjid in Ponda which was a home to 27 Masjids which were demolished by the Portuguese invaders. The Monument was built by the Bijapur Sultan in 1560.