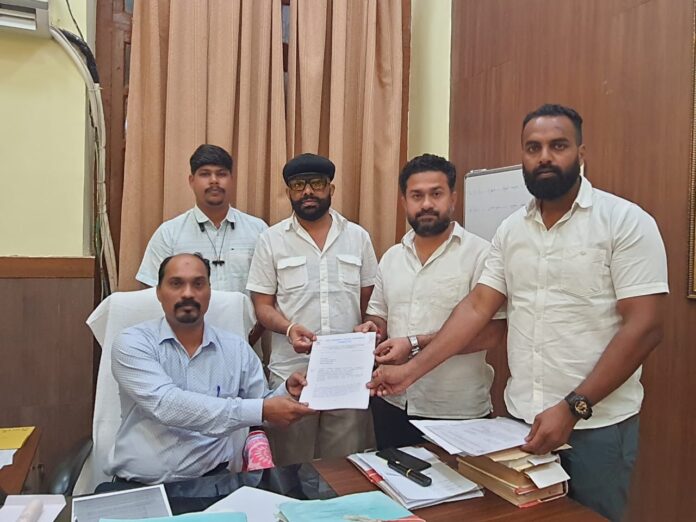 Panaji: Youth Congress has demanded thorough inquiry into the Mega Job Scam done by BJP in around 45 departments. It has been alleged that the BJP government has sold jobs without following recruitment rules and fair process.
Complaint signed by Janardhan S. Bhandari , State General Secretary-GPCC and Adv. Varad Mardolkar, President of Goa Pradesh Youth Congress, has been submitted to the vigilance department.
Panjim Youth Congress President Vyas Prabhu Chodnekar, State General Secretary Saish Aroskar and others were present on the occasion.
"Job scam has been proved by the public statement made by an MLA of ruling BJP who stated that "jobs in P.W.D. were sold for money & the overall scam in PWD is of Rs. 70 crore." complaint stated.
"The said MLA further stated that he has all proofs of the corruption done in the PWD office which will be disclosed at an appropriate time & before an appropriate authority. Such a serious statement made by an MLA of ruling Party has created serious doubts in the minds of the general public in general & the youth who have gone through this recruitment farce. These eligible and deserving youths are cheated, robbed of their legitimate right & what is more shocking is they are made part of a farce to pretend that all formalities are duly completed to illegally sell these jobs. "It further stated.
Bhandari said that time and again, the Congress Party has proved that jobs are sold by adopting irregularities, fraudulently and by corrupt practices in the PWD Dept., Dept. of Legal Metrology, River and Navigation Department, Dept. Of Health Services, Police Dept. etc.
"We will stand with the youths of Goa and will give them justice." He said.
Adv. Mardolkar said that the corrupt BJP government has deprived deserving candidates for jobs. "We never know that candidates who have paid for jobs could have been selected on merit, had this BJP government not indulged in corrupt practice." Mardolkar said.
Adv. Mardolkar also said that Congress will approach the court in this regard, if the Vigilance department tries to safeguard corrupt officers.
He also said that recruitment should be done under Goa Staff Selection Commission. "BJP sidelined it as they wanted to make money by selling jobs." He said.