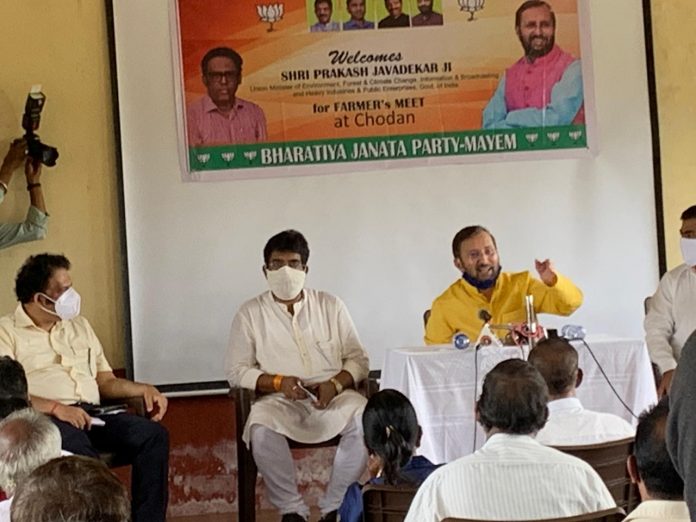 Panaji: Union Minister for Environment, Forest and Climate Change Prakash Javadekar on Saturday has appealed all the farmers in Goa to approach Zonal Agriculture Officer on Monday to cross check whether their name is in the list of beneficiaries under Prime Minister's scheme for them.
Javadekar was addressing a group of farmers at Chorao in presence of BJP Goa State President Sadanand Shet Tanavade, Deputy Chief Minister Chandrakant Kavlekar and others.
When minister asked how many in the crowd were receiving Rs 2,000 after every four months in their account under PM scheme, majority of them replied in negative. After that the minister said that the farmers should verify whether their names are listed as beneficiaries by visiting Zonal Agriculture Office immediately, latest by Monday.
Referring to the agitation against farm bills, Javadekar said that  except Punjab, there is no agitation against the Farm Bills anywhere in the country.
He also said that the agitation in Punjab is with the political intentions of the parties like Akali Dal, Congress and Aam Aadmi Party.
"There is no agitation against Farm Bills anywhere in India except Punjab. You should not hold agitations as a part of political agenda," he said in his brief address to the farmers.
He said that the Farm Bills have received overwhelming response from the farming community across the country. "Narendra Modi-led government aims to give justice to each of the farmer, who were refused their dues in the past," he said adding that the party leaders are holding smaller meetings across the country because "public meetings are not allowed due to COVID-19 pandemic."