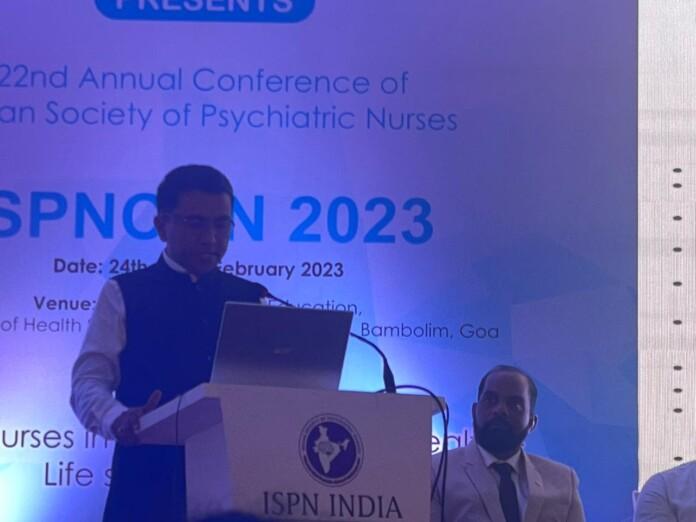 Panaji: Goa Chief Minister Dr Pramod Sawant on Friday raised concern about the exponential increase in the cases of online distress in the country.
While addressing the 22nd Annual Conference of Indian Society of Psychiatric Nurses (ISPN) at Institute of Nursing Education near Panaji, the chief minister said that there will be increase in the demand of Nurses with the union government promoting health for all initiative.
ISPN President Dr K Reddemma, Indian Nursing Council President Dr T Dileep Kumar, ISPN General Secretary Dr G Radhakrishnan, ISPN Joint Secretary Dr G Balamurgan and Principal of Institute of Nursing Education Prof Dr Wilson Fernandes were present on the dais.
The chief minister said that the mental health is essential for complete wellbeing.
"While mental health ha been rising concern for all. We are witnessing exponential increase in the cases of online distress," Sawant said adding that the technology use has been increased with the pandemic with everybody being vulnerable to the cyber crime threats.
He said that Online distress has triggered various mental health issues like depression and internet addiction. "The role of mental health care professionals is essential in such kind of situation," Sawant stated.
The chief minister asserted that the nursing professionals should also work as Cyber care givers "so as to help people cope up with the technology."
"I strongly believe  you all will be interventionist for the mental health for all," he said.
Lauding the role played by Nurses, the chief minister said that there will be more demand forNurses in India with the initiative of Health for All introduced by Prime Minister Narendra Modi.
He also noted that in the past, only women used to take up the profession of nurses, which is gradually changing now with the men too entering the sector.