Porvorim: BJP-led government seems to be heading for another controversy after Transport Minister Mauvin Godinho demanded that the Porvorim be named as New Panjim.
The demand was made by Godinho during a function held at Porvorim on Monday, following which local MLA Rohan Khaunte condemned the statement claiming that Porvorim people are 'swabhimani' and know what they want.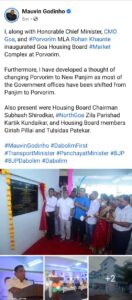 After the function on Monday at Porvorim held to inaugurate Goa Housing Board Market complex, Godinho tweeted "I have developed a thought of changing Porvorim to New Panjim as most of the Government offices have been shifted from Panjim to Porvorim."
Khaunte has sharply reacted to the statement. He said Porvorim was a part of Aldona Assembly constituency and it was carved out as a separate entity after the delimitation to ensure allround development. Porvorim has its own identity.
"Porvorim constitutes of Rural and Urban areas and the people of Porvorim are Swabhimani and they know what they need for their area."
"Instead of changing names and introducing Bills, government should support the constituency to complete pending development."