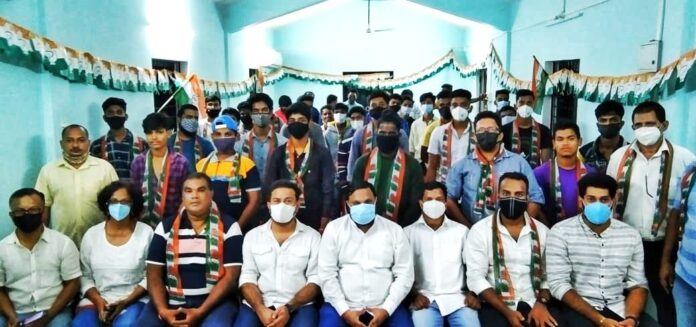 Panaji: Akhilesh Yadav, National Secretary of Indian Youth Congress and Goa Incharge, has alleged that BJP usurped the power in Goa from backdoor and murdered the democracy. "But now it's the responsibility of youths to restore our democracy by changing the face of government in the 2022 assembly election." He said.
He was speaking during a meeting of Goa Pradesh Youth Congress Cumbharjua-Block on Saturday at Old Goa Panchayat Hall-Old Goa. The meeting was largely attended by youth from Cumbharjua Constituency following COVID-19 SOPs and guidelines.
State President Adv. Varad Mardolkar, Cumbharjua Block President Vishal Volvoikar along with Mr.Himanshu Tivrekar, Youth Congress General Secretary Glean Cabral, St. Andre President Saish Aroskar,Goa Social Media Incharge and others were present.
Akhilesh Yadav further said that there is a need to bring change in Goa, by which the State will prosper and people will get relief. "This BJP government is trying to suppress the voice of people of Goa and imposing unwanted projects against the wishes of people." He also charged that the BJP Government is responsible for the murder of 3000 innocent people during pandemic.
"Youth have the ability to change the face of the government in the coming elections in 2022 , by taking the Congress party ideology and vision." He said.
He appreciated the work of the COVID warriors Adv. Varad Mardolkar, Janardhan Bhandari, Mr. Saish Aroskar, Himanshu Tivrekar, Glean Cabral and other youths who had helped COVID patients by supplying oxygen cylinders , Food and provisions risking their own lives.
The meeting started with welcome to dignitaries by Mr. Vishal Volvoikar who informed that the meeting was organised to enable the youth from Cumbharjua to strengthen the Congress Party in the constituency.
Adv. Varad Mardolkar while speaking highlighted the failures of BJP government in handling COVID pandemic and unemployment. He lambasted the government for its lackadaisical attitude to resolve burning issues and provide facilities in health areas. "Youth of Cumbarjua could be involved with social engagement to help the needy in the community." He said.
Others present were Mrs.Maria Christina Varela – President , Cumbharjua Block Mahila Congress Committee, Mr.Lawernace Couto – Convenor Digital Membership, Mr. Christopher Menezes, Mr.Manuel Gomes , Mr.Suhel Halankar, Mr.Prasant Volvoikar, Mr.Raj Sharma.
The meeting was conducted by Mr.Socorro Menezes, General Secretary NGDCC.