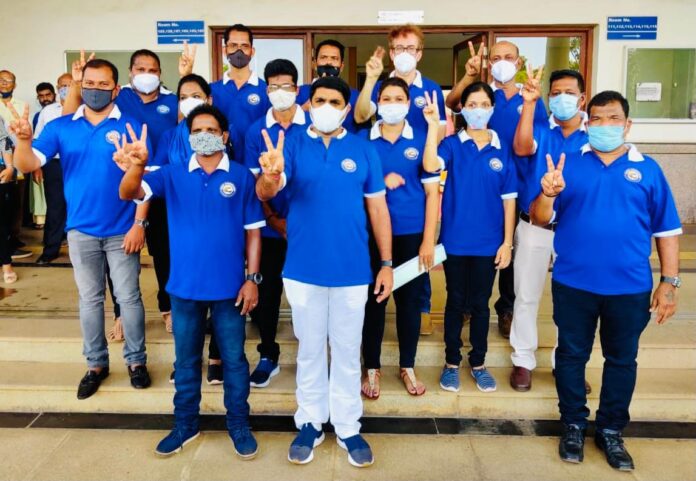 Goa Forward Party President Vijai Sardesai unveiled his 13-member Fatorda Forward panel for the upcoming Margao Municipal Corporation elections saying, "we have compiled a panel ready to bring forth a Future Ready Fatorda for all of Fatorda and Curtorim citizens."
Sardesai said the 13-member panel seeks to represent the people of wards 1-11 and 23, and 25. He said the candidates represent the diversity of Fatorda's constituency across all religions and from both the age groups.Vijai pointed out that 70% of the candidates are "new fresh faces, chosen on will, and passion to drive the excellence of Fatorda and implement new ideas tailored to an evolving Fatorda constituency."
Vijai Sardesai said this year, the theme for the panel is to bring a 'Future Ready Fatorda', one that is capable of implementing modern amenities, infrastructure through development by consent and inclusiveness of all Fatorda's residents by "striving to fulfill their democratic aspirations and will."
Sardesai said he is proud of his candidates and was touched by the people's support towards them as the Fatorda Forward panel conducted its door to door campaigning. He said, "love, support and excitement the people have already shared is a sign that the people of Fatorda are ever ready to move forward." Vijai said that the panel includes members from all background with the youngest being 26 years old, while the oldest candidate is 62 years. He said, "from day one we were future ready, we didn't have to wait for the last minute to find and announce candidates. We were open and transparent from the beginning and we had nothing to hide, this is a panel that truly works to represent the people of Fatorda and Curtolim."
The Fatorda MLA thanked all the citizens of Fatorda for their prayers and blessings on the panel and said "together with the people we have shared and taken part in so many different experiences, and we cant wait to get to work for them. That is why today, we offered our prayers to Daambab, and St. Francis Xavier to continue to protect the people of Fatorda.
Vijai Sardesai said "the Future Ready Fatorda vision sets the foundations of our united Team Goa movement." The GFP Chief highlighted that "the inclusiveness, diversity, and unity our panel demonstrates shows all of Goa, that even the state can be 'Future Ready'. Sardesai said that "we hope to make Goa – a Future Ready Goa, bringing the necessary change of governance, progress of our society and strengthening identity to to protect our state, culture, and ambition, as a true form of Goemkarponn.
Fatorda Forward candidates who filed their nominations are Francis Agnelo Joanes (Ward No 1), Joao Nicolau Crasto, (Ward No 2), Lyndon Fredy Pereira (Ward No 3), Pooja Parmeshwar Naik (Ward No 4), Shweta Sujay Lotlikar (Ward No 5), Pravin Jana Naik (Ward No 6), Custodio Dias (Ward No 7), Milagre Noronha (Ward No 8), Ravindra Naik (Ward No 9), Vitorino Fernandes (Ward No 10), Raju Alias BudhajI U. Naik (Ward No 11), Nimesia Faleiro (Ward No 23), Adv. Ashma Bi (Ward No 25).