Goa Adventure Club have your honeymoon sorted this season, catering to all kinds of honeymoons, from budget honeymoon to a lifetime luxury honeymoon Goa Adventure Club caters to all your needs. You need to only whats app them your requirement on +91 8007274939 along with your budget and they will have the best options drafted for you within minutes.
1. Mesmerising North India
This package includes
Shimla, Manali, Kullu, Kasol, Manikaran, Solang Valley starting at 20000/- per person with Goa Adventure Club, you can Contact: +91 8007274939 to book you slots and ask for any customisation if required.
2. Maldives starting at 45000/- per person which includes all the underwater adventures, the private resort for what maldives is known for and ofcourse the tranquilty of the India Ocean which adds to your romance in Maldives.
3. Magical Uttarakhand starting at 15000/- per person is an option for budget friendly travellers which includes Nainital, Jim Corbett, Rishikesh and Haridwar, you can contact +91 8007274939 for any further customisation according to your needs.
4. Malaysia starting at 40000/- which includes a stay at Hilton hotel in Kuala Lampur, Genting Highlands and a visit to the highest twin towers of the world, customisation and booking can be done through whats app on +91 8007274939.
5. Hampi at 6500/- only per person which includes stay in a 4 star hotel and all sightseeing, Hampi is the UNESCO World Heritage site and what can a better honeymoon for Goans at some a heritage site, to book Contact +91 8007274939.
6. Rajasthan at 18000/- per person which includes the Pink City of Jaipur, Blue City of Jodhpur, City of lakes in Udaipur and Ajmer Dargah, Contact: +91 8007274939 to book.
Making travelling easier for Goans and especially budget couples with tight pockets and couples who want a one time luxury honeymoon, Goa Adventure Club is a travel start up based in Ciba-Verna, Goa making in roads in the travel market catering to budget and luxury travellers for International as well as domestic travellers in Goa.
North India, is a must visit destination for every Indian, Exploring Manali and Shimla has always been a dream of every child along with the excitement of playing in the snow adds to the essence of this tour to North India by Goa Adventure Club, they have also explored Maldives to give the best opportunity to experience the Island in the most luxurious way ever, a stay in a water villa is a dream come true for any honeymoon couple, we customise according to the need and also give an option of a private pool in a water villa for luxury couples says their chief spokesperson.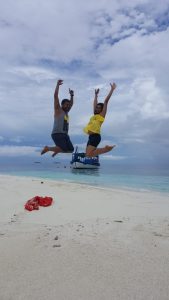 Hampi is another option available, where a couple and enjoy their honeymoon at a 4 star with all amenities inclusice at only 6500/- who can even imagine their honeymoon in such a lovely heritage site, besides Rajasthan and Malaysia are also some amazing options to consider.
There are more than 5000 Goans who have already travelled them, and they are looking to have atleast 2000 total travellers with them for 2020, their customers are mostly students and Couples, Honeymoon couples love to travel the above locations with lots of zeal.
Share this to all your friends and relatives who are getting married soon.
Contact: 8007274939 for any tour customisation and bookings of your dream honeymoon.