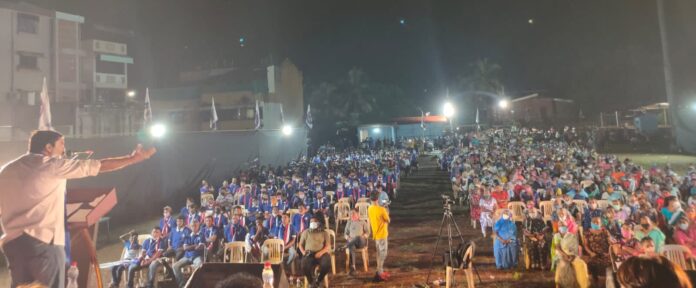 Margao: The President of Goa Forward Party Vijai Sardesai on Sunday said that it is the duty of his party to give justice and opportunities to mull Goemkars first. "To protect the interest of Goemkars we have made an alliance with Congress, give us a chance to form a government and thus we will be able to work for you all."He said.
Goa Forward Party on Sunday had organised "Mull Goemkarancho Ekvott Mellavo" at Fatorda. GFP Block President Peter Fernandes, Councilor Nimisha Faleiro, P Alvares, Tiatr artist Dorreti, Francis Pinto and others were present on the occasion. Many youths from ST community joined Goa Forward on the occasion.
Vijai Sardesai said that he formed the Goa Forward for Goem, Goemkar and Goemkarponn. We are here to protect the interests of our Goemkars. We have concrete plans for our Mull Goemkars." He said.
BJP tried to take votes of people staying in slums, by bringing Bhumiputra bill. "But we raised the voice against it and forced the government to stop the process of making it act." He said.
BJP is working at night time by promoting defection. "BJP can't face people during day time. This government is not for Goans but for Sawantwadi." He said.
BJP tried to promote Ganja cultivation in Goa. "It is only to benefit non-Goans and put our mull Goemkars in trouble. We need to be united to save our identity." He said.
He said that BJP is now luring people by promising to give government jobs, which is just a political gimmick to gain votes. "Election code of conduct will be in force soon, then how it will give jobs." He said.
Sardesai said that he has made an alliance with Congress to send BJP home. "BJP has a lot of money from their trade of coal and other deals, which have sold Goa." He said.
He said that many died due to non availability of oxygen during COVID. "Chief Minister Pramod Sawant totally failed to save the lives of the people of Goa." He said.
Sardesai said that ST people have always supported him, who made him MLA and Minister. "I will never forget the love and the support you have given me." He said.
Fatorda MLA Sardesai said that a video of TMC bringing Bengalis in Goa for votes has become viral. "TMC is here to divide our votes, so it benefits BJP." He said.
He said that several efforts are being taken to provide business and livelihood to the people of ST. "We will come up with one APP, which will be a catalyst to provide benefits to people." He said.
He said that Tiatr and the football area will be taken forward, once the government of Congress and GFP forms.
Dorretti said that since the last 10 years, vivid development has taken place in Fatorda. "Women feel safe in Fatorda as there is a police station and police patrolling is being done in all areas." She said,
P Alvares also commended the efforts of Sardesai for doing overall development of the Fatorda constituency. "He has done a lot of development by bringing many good projects." He said.
Fatorda block president Peter Fernandes ,Councilor Nimesia Faleiro and others also spoke on the occasion.