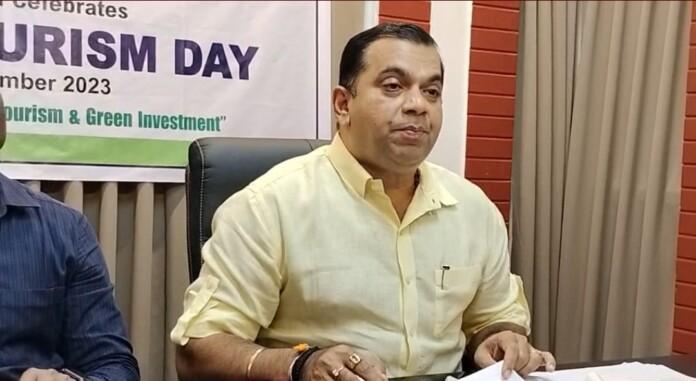 Panaji: Goa tourism minister Rohan Khaunte on Tuesday said that the concept of promoting tourism beyond the beaches in the coastal state is a step towards encouraging green tourism.
Speaking to reporters on the eve of World Tourism Day, Khaunte said that the state tourism department working in lines with the thought of Prime Minister Narendra Modi's vision.
He said that the green tourism industry is a way forward for this sector which is an important backbone of the economy. Khaunte said that Goa government's idea of "Goa beyond beaches is an initiative to move from the coast to the hinterland. It is a step towards encouraging green tourism and also give good signal on sustainable tourism," the minister said.
He said that Goa has "Home Stay Policy" which aims to encourage hinterland tourism and create employment for locals. He said that those offering homestays would be benefitting, so also, are the other ancillary industries.
"The benefit of the hinterland tourism will go directly to the local communities in a big way," Khaunte stated.
The theme of the world tourism day to be celebrated on Wednesday is "people, planet and prosperity."
Khaunte said that the document adopted by the tourism ministers from G20 countries is called as "Goa roadmap." He said that Goa roadmap has considered five pillars for the tourism sector.
"This time, the world tourism day revolves around tourism and the green investment," he said.
In simple terms, Khaunte said, green tourism is like "going on a special adventure where we can have lot of fun but also preserve our mother Earth. We can be super Heroes."
The minister said that when we speak about the green tourism, we have challenges like advancing citizen action for sustainable tourism, measuring better to manage better, protecting, empowering and engaging local population, supporting bio diversity conversation and transition to sustainable infrastructure and operations.
Talking to reporters further, the minister said that the concept of Yuva Tourism clubs is picking up in the colleges. "Close to 75 colleges in Goa have Yuva Tourism clubs," he said adding that the central government wants youth to be Ambassador of the tourism.
Responding to the objections raised by section of beach shack operators on recently announced shack policy, Khaunte said the policy was framed after taking the shack operators into confidence. He said that there were eight rounds of meeting with them to work on the draft of the policy.
Khaunte warned the shack operators against "playing politics" in the name of opposition to the shack policy.