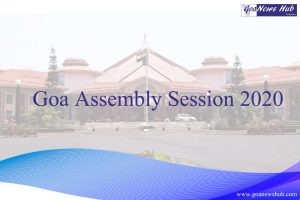 Porvorim: Goa Legislative Assembly on Monday passed a congratulatory motion congratulating the Prime Minister and Union Home minister for passing Citizenship Amendment Act (CAA), amidst walk out by opposition benches.
BJP MLAs Atanasio Monserratte and Clafacio Dias moved congratulatory motion during the first day of the budget session.
Supporting the motion, Chief Minister Pramod Sawant alleged that "few leaders were misguiding people on the act."
"I wont say that the opposition members are innocent about the act. They are well aware about it. but they are purposely trying to misguide people," he said.
The opposition benches while walking out from the House demanded two and half hour long discussion on the issue of CAA and NRC, and not the congratulatory motion which was moved by the ruling benches.
Sawant said that there is nothing objectionable in the CAA but it is enacted to take care of the minority communities in Pakistan, Afghanisthan and Bangladesh.
He pointed out that Hindus in Pakistan has been reduced from 13.5 to 1.85 per cent. "Where have these people gone? They have either got converted or migrated, and naturally they have come to India," the chief minister said.
Urging the opposition benches to read history, Sawant said  India-Pakistan was divided on religious lines.
"Pakistan for Muslims and India for Hindus. This was done by Congress party," he commented.
"The attempt to give citizenship was also done by Pandit Jawaharlal Nehru who in the year 1950 had given assurance in the lok sabha that the refugees would be given citizenship," he said.
Some people come from outside Goa and try to poison the minds of Christian citizens, Sawant said adding that CAA "will not cancel citizenship of any person."
Majority of Catholic MLAs from BJP supported the motion.
State Ports Minister Michael Lobo said that many Christians who had migrated to Pakistan are wiling to come back to Goa.
"I have been giving them the letter required by Embassy to come to Goa to participate in the feasts and other occasions. Those people would be helped due to CAA," he said.
Deputy Speaker isidore Fernandes said that Goa Church has adopted anti-CAA stand, but it is for the elected representatives to clear air on the act.
"We face humiliation many a times when we go for religious gatherings. But we should face it. And we should be convincing the people on this act," he said.
Power Minister Nilesh Cabral said that the CAA will solve the major issue of enemy property which is existing in Goa.
He said that several people who had migrated to Pakistan have their properties in Goa, which are labeled as enemy property. "These people will get benefit due to CAA," he said.
Deputy chief minister Chandrakant Kavlekar alleged that some political leaders were trying to revive their career through anti-CAA agitation.