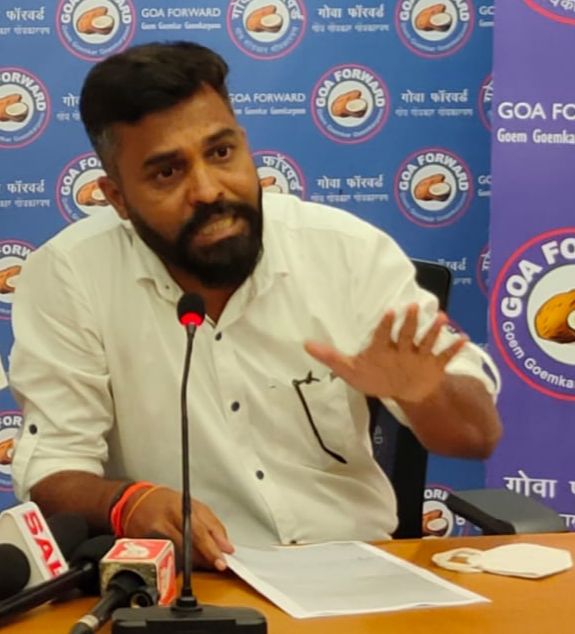 Margao: The Goa Forward has demanded action against Rameshwar Mandrekar- driver of Sulochana Sawant, wife of Chief Minister Dr. Pramod Sawant, for cheating a job seeker from Cancona by taking Rs 5 lakhs.
The convener of Environment Cell Vikas Bhagat on Tuesday addressed a press conference and appealed to parents and job seekers not to fall prey to the Menu Card of BJP. "I appeal to these youth who are giving money for jobs and their parents, not to entertain agents of BJP who are selling jobs." Bhagat said.
He said that the BJP Government is trying to give the post of Technical Assistant to the PA of one Minister and is busy selling jobs. "Already case of Avval Karkoon is in the High Court. There are many incidents where youths have given money to agents of BJP. This should stop." He said.
Bhagat claimed that jobs are sold wholesale by the BJP. "Code of conduct will be in force very soon. Hence these agents wont be able to give jobs to those who have given money." He said.
Bhagat said the principal of Polytechnic college should not work at the behest of Ministers and manipulate exams. "This BJP Govt will expire soon and a new government will come. Hence, government officials should not work at the behest of their bosses." He said.
Bhagat said that one youth from Cancona has registered a complaint against the driver of Sulochana Sawant at Cancona Police Station in the first week of April, however no action has been taken against him. "Chief Minister should clarify action has been not taken against this driver." He questioned.
He said that people of Goa should come to know why the Chief Minister is trying to shield this agent, who has taken money for a job.