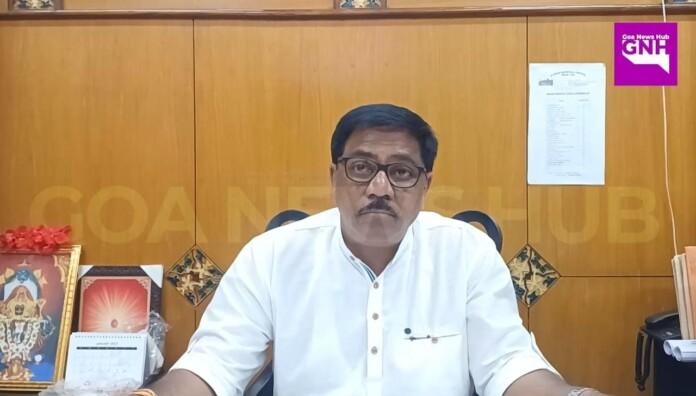 Margao: As a media house which is bothered about issues of the people, we raised the genuine problem about the non-performing Traffic signals at Fatorda.
A team of reporters from Goa News Hub spent a day to understand the plight of people crossing these signals and we brought the visual story before you.
When the story was put out, Margao Municipal Council Chairperson Damodar Shirodkar refused to give his comments claiming that he is out of station.
Later when he returned back to Margao, he behaved arrogantly keeping our reporter waiting outside his chamber for more than two hours to give the byte which was laced with arrogance. We have carried his byte which is on our platforms.
Now the question we should ask Bharatiya Janata Party and specially Margao MLA Digambar Kamat is that do you vouch for the behaviour of Damodar Shirodkar?
Is it wrong to speak about the concerns of the people?
While for every second, people are risking their lives in the traffic at these Traffic Junctions, Shirodkar is enjoying all the perks of being Margao Municipal Council Chairperson.
The issue is very clear.
Shirodkar claims that the signals are not handed over by Fatorda MLA Vijai Sardesai to Margao municipal council. In the same breathe, he says that there is no political rivalry between him and the Fatorda MLA. How much time it take for him to hold a meeting and decide on the issue.
There are few companies which have shown interest to maintain these signals but Shirodkar says that he has to study the matter.
Shirodkar is just a councilor of a ward in Margao municipality who rose to the level of Chairperson merely because he is having blessings of Digambar Kamat. He has to understand that he is lucky to be chosen to be on the Chair and he is supposed to serve the people.
He represents the people of Margao.
His arrogance is unwarranted and could not be entertained as Goa News Hub has been fighting for the cause of the people.
We will continue fighting. We expect Damodar Shirodkar to behave properly, or else BJP and specially Digambar Kamat should replace someone with sane mind and dedication to the people on the Chair.