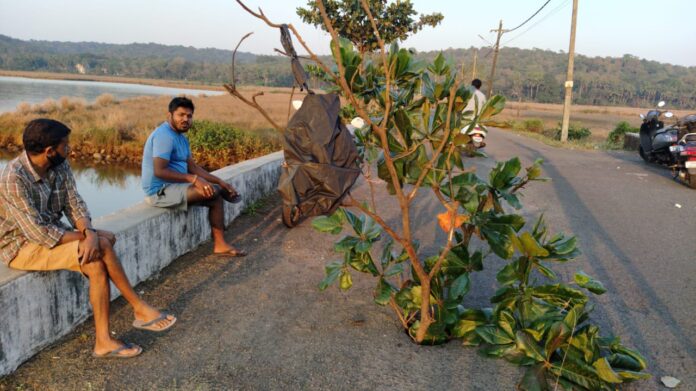 Porvorim: While State government has paused the developmental works in Porvorim constituency , three major culverts that help people connect to different areas have began caving in triggering the possibility of major mishap in near future.
Local MLA Rohan Khaunte has been raising this issue, periodically before the state government, since the year 2014, but these works have been kept on the backburner.
The social media is flooded with the pictures of huge holes developed on the road alongside all the three culverts, indicating that the stretch may cave in any time.
The culverts and roads leading to them at Torda, Salai and Paithan creeks have been damaged badly even as PWD or Goa State Infrastructure Development Corporation (GSIDC) dragging its feet.
Sources stated that in the year 2017, then CM Manohar Parrikar had marked the work to GSIDC, which has not moved even an inch after that.
The issue of repairs and beautification of culverts was raised initially in June 2014 by Khaunte who had written to the CM asking for construction of ten culverts in Porvorim Assembly constituency.
"Porvorim Constituency is having good potentiality of being hinterland touristic place because of the greenery, various creeks, palacial houses and the hospitality of the people," the letter had read.
Khaunte had pointed out that there are five beautiful roads over creeks connecting villages through paddy fields, and water bodies on both sides of the road and because of its scenic beauty, lot of tourists visit this place and the existing old culverts and roads are insufficient to regulate the growing requirement of the vehicular traffic.
Three years later in July, 2017, Khaunte wrote another letter to CM urging beautification of creeks in Porvorim constituency.
Mentioning about all the three creeks – Torda, Salai and Paithan, Khaunte had said "above creeks are required to be given touch by providing retaining walls, broadening the widening of roads, hotmixing, putting speed breakers at crucial junctions, providing footpaths and walking tracks, electrification etc. so as to facilitate easy and safe flow of traffic and keeping in mind safety of pedestrians and residents of the area.
The locals have expressed anger over the BJP-led government for providing step-motherly treatment towards the constituency, putting at risk their lives.