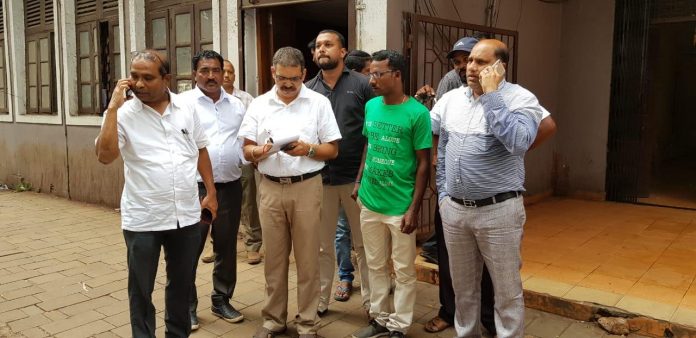 Panaji: Several traditional fishermen from Siridao and surrounding area today met Fisheries Minister Vinod Palyekar demanding ban on the canoes with purse sein net fishing in their area.
The group of fishermen led by Fr Valerin Vaz and St Andre MLA Francis Silveira met the minister complaining about the canoes with purse sein net fishing in the areas which are earmarked for traditional fishing.
Vaz said that the purse sein net is to be used for trawling in the areas which are more than five kilometers away from the coast. They are not supposed to intrude in the territories  where traditional fishermen have been predominantly operating.
The traditional fishermen during their meeting with the minister detailed on how they are left without fish due to over exploitation of resources by these canoes using purse sein net.
"In another 2-3 years there will be no fish left in the areas around Siridao because of the greed to have a big catch in short time," Vaz said.
St Andre MLA Silveira said that there are at least 1,000 traditional fishermen operating in the stretch between Dona Paula to Agassaim.
He said that the issue was raised in the year 2014 before then fisheries minister Avertano Furtado after which seven canoes were seized by the department.
"They were left are issuing the warning that they will not venture again in the areas where traditional fishermen have been operating. For some time, they stayed away but now they have again began coming in their area," the MLA said.
Silveira said that the State government should work to ensure that there is no conflict between the traditional fishermen and those operating with Purse Sein net in and around Siridao.
Talking to reporters after the meeting, Palyekar said that the fisheries department has been keeping a strict watch on such intrusions. "But due to lack of manpower and machinery, a full proof arrangement to monitor the illegalities cannot be worked out," he said.
The minister said that the Fisheries department will soon be conducting recruitment drive to get people employed who will be empowered to do the work of monitoring the rivers to avoid such instances.