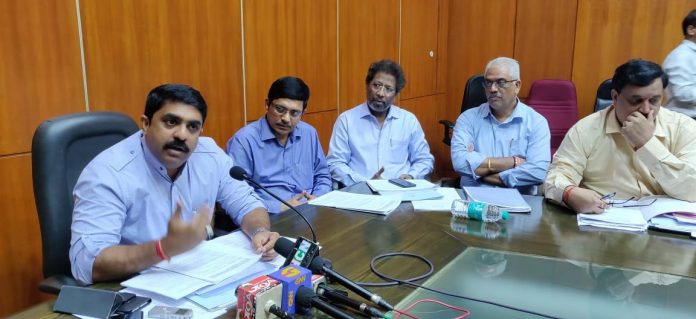 Porvorim: Town and Country Planning Board on Friday approved the Outline Development Plans for Fatorda, Margao and Ponda cities which has been designed keeping in mind vision 2028 for Goan cities of future.
Goa Forward Party Chief and TCP Minister Vijai Sardesai, who chaired the meeting, which approved these ODPs, which were earlier given nod by South Goa Planning and Development Authority (SGPDA) said that these plans for the first time has macro level design and micro level diligence.
The ODPs which were passed by SGPDA were well received by public and the media.
"Focus is on everything that is quintessentially Goan where international expertise is merged with local culture to creat a new aspirational, stylish, Neo-Goan identity," Sardesai said.
He said that Goa Forward Party was formed, it brought Goemkarponn into politics. "And when we formed the government we brought Goemkarponn into many aspects of governance," he said.
The minister said "today when we think of big ideas like Urban Design and city planning, we insist that Goemkarponn forms the foundation on which our cities are built."
Sardesai said that the government has created avenues like the Opinion Poll Square where the Goan balcao is seen. "We are in the process of implementing the Goan Tinto Project where heritage conservation will be the focus, eventually leading to heritage walks being organised for tourists to learn our architectural heritage and history," he said.
Sardesai said that government has not forgotten our agrarian roots and intend to create an agriculture hub which will be a model of community farming involving a collaboration of government and people (land losers).
"We intend to source the best urban planning minds in the world to design our cities at the macro level through the CDP, that will now follow.
These new cities should boost economic, social and cultural growth and promote happy and healthy living," he said.
"Cities that signal a new stylish and proud identity that is in tune with emerging aspirational Goa," he added.
Sardesai said that through the plans the department has not only changed zones and increased FAR, which has become symptomatic with ODPs but we have thought of our Goemkars who are poor and have earmarked an area of 10,000sqm for low cost housing.
"We want to focus on translating the idea of education into good schools. Hence benefits in FAR to Multipurpose School, Loyola School, Manila Nutan High School, Iqra Muslim School and Matagramast Hindu Sabha's proposed educational institute at Pajifond," he said.
"For the first time the Diocesan intends to come up with an ICSE School for whom provision is made through zoning and access," he added.
"A new Fatorda Peoples School is planned with state of the art facilities.
Holy Spirit Church's cemetery has parking issues. The area adjacent to it has been earmarked as parking following request from Parish Priest of Holy Spirit Church Fr. Avinash Rebello," he said.
Sardesai said that new facilities like an entry gate for Fatorda, a fully equipped bus terminus, a majestic Town Hall, Recreational Biodiversity Park is also planned.
"The run down housing colonies have been given special FAR for redevelopment."
Sardesai said that Tolsanzor, a fresh water spring now an urban slum will be revived and transformed into an adventure sports and tracking facility.
"Ring Road for decentralisation of traffic movement and decongestion of traffic is being conceptualised alongwith creating a St. Joaquim Church from the present St. Joaquim chapel which is a long pending demand of the citizens of Borda," he said.
Dambab Talli- is marked for heritage conservation and beautification. And Hospicio for heritage conservation too with Fr. Miranda centre perhaps.
Land loser incentivization.
Sardesai said that the planning is done keeping in mind Sabka Saath Sabka Vikas – although Digamber Kamat and Ravi Naik are for name sake opposing or showing non cooperation.
"All in all we have shown the ODP and subsequent CDP will ensure diligent and meticulous execution. A small state like Goa can think BIG and we will prove that big ideas turn into reality given our will and passion to take Goa Forward," he added.