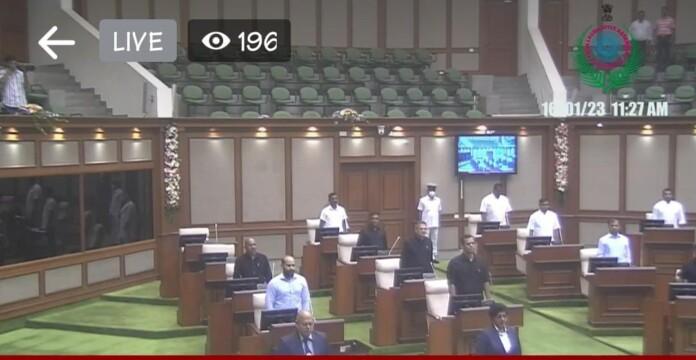 Panaji: The opposition benches on Monday tried to disrupt the Address of Governor P S Sreedharan Pillai in the State Legislative Assembly demanding a statement on the Mahadayi Water Diversion issue.
The Governor who stood to address the House on Monday during the first day of the winter session was disrupted by the opposition benches.
The members of Congress, Goa Forward Party and AAP stood up at their places as the Governor began his speech. All the members were dressed in black outfit.
Leader of Opposition Yuri Alemao stood up in the House demanding that the Governor should make his statement on Mahadayi river. He also demanded that chief minister Pramod Sawant should resign from his position for failing to protect the River.
Speaker of Legislative Assembly Ramesh Tawadkar tried to convince the members to allow the Governor's speech but the pandemonium in the House continued.
All the opposition members except a lone MLA from Revolutionary Goans Party were later removed from the House.
The Governor continued his speech in absence of the opposition members.
Talking to reporters outside the Assembly, GFP Chief Vijai Sardesai said that they were demanding a frank statement from the Governor on Mahadayi issue. "It is an issue of life and death for Goans. We wanted the Governor to make a statement," he said.