Panaji: The city of Panaji has donned a colorful look with Carnival masks, coloured streamers and lights strung along the tree lined streets. The centrally located Jardin Garcia de Orta has been converted into the Samba Square and the Mandovi promenade has been decked up for the next four days so that people can come together and celebrate the festivities in true Samba style.
The float parade will kick off at 3.00pm from the Patto bridge. The inaugural ceremony will have state and city authorities in attendance as the float parade makes its way along the winding streets of the capital city.
The first day will see a music extravaganza at Samba Square unfold with Goa's nightingale Lorna enthralling audiences with her power-packed performance as she belts out her classics. Having taken a break during the pandemic, the septuagenarian artist will be returning to the state to the delight of her fans.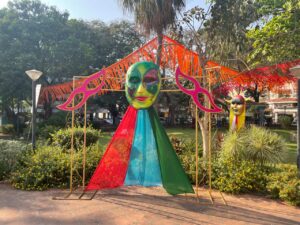 Meanwhile local lad Bongisio will light up the stage at the Mandovi Promenade with his version of Konkani rap. All the venues will feature acts and performances by a host of musicians from across age groups. From konkani language artists to local bands and khel tiatrs to stand up comedians, the venues will be buzzing with music and dance through the event.
Bookworm has planned a host of activities for children of all age groups at the Samba Square.
The zone will have three stations – a craft station where children can create bookmarks, carnival headgear, and other craft activities in addition to a games centre and an art station. A specially created pop-up library, craft-related activities, and book sale counter are open to all children from ages 5 and above. In addition to the activities, there will also be a book counter which will display curated books from Indian publishers.
A stray dog adoption zone is also planned where interested individuals can come in to adopt a furry stray and give it a home.
A culinary extravaganza with a host of food stalls and culinary pop-ups has also been planned at Samba Square and the Mandovi Promenade. The Food and Beverage trade community has come together to support the city authorities in the efforts. Many are setting up food stalls at the Samba Square. A dedicated zone is being created for local culinary entrepreneurs or 'foodpreneurs' by FIERCE Kitchens in an effort by the city to encourage them and offer the foodpreneurs a platform to showcase their creations.
This year Samba Square will see a pop-up bazaar as colourful and quirky as the Carnaval itself featuring products by talented entrepreneurs from the state.