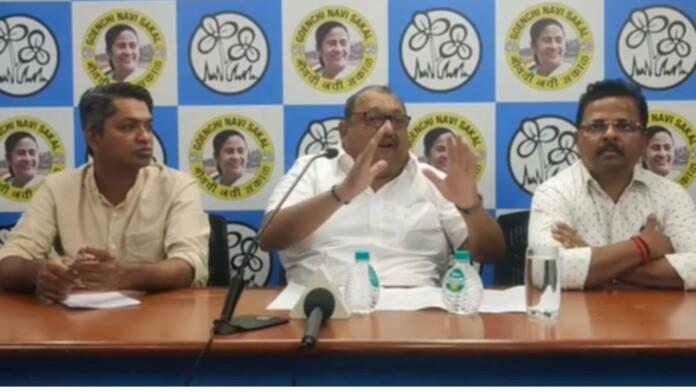 In an all-out attack against the ruling dispensation, the TMC today slammed Chief Minister Pramod Sawant for the rising rate of unemployment in the state. The attack was led by Goa TMC Joint Convenor Samil Volvaiker, Goa TMC Media Coordinator Trajano D'Mello, and Goa TMC Spokesperson Jayesh Shetgaonkar. At a press conference held at the party office in Panaji, the Goa TMC highlighted how the Pramod Sawant-led government has failed the youth of Goa at every step of the way, be it in ensuring skill development curriculum or providing job opportunities in either the private or government sector.
Slamming Chief Minister Pramod Sawant for his recent statement on Goa's unemployment rate, Goa TMC Media Coordinator Trajano D'Mello said, 'The CM admitted that according to the CMIE report, Goa's unemployment rate is at 13% and 70% of the state's unemployed youth are graduates, and yet he asks if the government alone is responsible for such figures. Who else is to blame if not the BJP government?' He further questioned, 'The CM appealed to the institutions to impart skills-based courses, but I'd like to ask him how much funding has been allocated to private institutions,' he continued. Every institute is ready to work provided they are provided with the required infrastructure.'
Hitting out at the BJP-led government for failing to ensure skill based education in the state, D'Mello asserted, 'The BJP has been in power for 10 years now. What have they done to create a skill force in the aviation and tourism industry? If the youth are the future of the state, what has the government done for them? Even the allocated education budget has not been used due to the inefficiency of this government. The Aviation Skill Development Centre was inaugurated in 2021 and in a year only 1500 people were recruited and 2000 trained.' He further pointed out, 'Goa's youth demand the government to release the name of the 1500 people who have been recruited so far.'
Holding Chief Minister Pramod Sawant accountable, D'Mello demanded, 'We demand the education budget be increased by 25% with a focus on digital literacy curriculum and skill education. Additionally, a Market Labour Information Force is formed to supply the inputs to the various institutes.