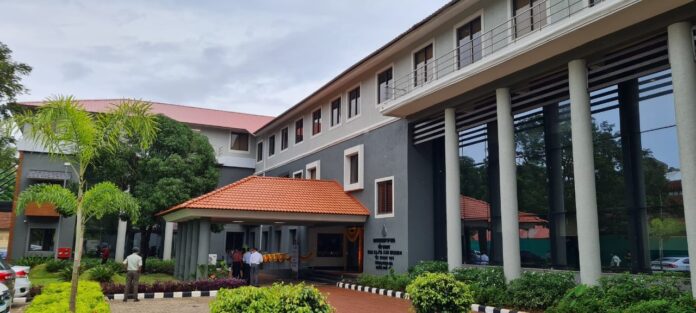 Panaji : GSIDC has completed the interior and furnishing work of building for State Tax Department which is named as "Goa Rajya Kar Bhavan at Altinho, Panaji, Goa"
M/s. Rajesh Kenkre, Panaji, Goa is the Project Consultant and M/s. Jayant K Furnishers, Mumbai is the Contractor for the project. The approximate cost of the project is Rs 19.00 crores.
The inauguration was done today morning  in the presence of Chief Minister of Goa Pramod Sawant, Minister Mauvin Godinho,  Atanasio Monserrate,  Joshua Peter De Souza,  Rohit Monserrate,   Parimal Rai, IAS, Chief Secretary, Government of Goa, Puneet Kumar Goel, IAS, Principal Secretary (Finance), Government of Goa, Hemant Kumar, IAS, Commissioner of State Tax, Government of Goa.
The Goa Rajya Kar Bhavan is a contemporary office building spread over an area of 5400 sq mts. The Building has 3 floors with the Ground floor for the Excise Department, the 1″ and 2nd floor for the Commercial Tax Department and a dedicated Storage area in the attic floor.
The building comprises 3 adjoining blocks housing different functions of the Tax office. Central Block comprises the main Public Entrance, Inward/ Outward sections, Panaji Ward and other offices. The East block has most of the staff and admin offices, Canteen ete, while the West block houses the Training and Conference Facilities.
The press note informed that the focus was to create an inviting and friendly interface for the general public visiting the office for their tax related matters.
There is a 100 seater Training Hall with audio visual and projection systems to cater to the training needs of the department and general public regarding the new tax compliances.
The 1st Floor houses a State of the art Conference Hall with a HD Video wall facilitating Video conferencing amongst the allied government departments / institutions within the state of Goa and the country
The Staff and Administration section is a separate well defined section of stations and dedicated cabins. Safety and Security features like Fire Alarm and Detection, CCTV surveillance, Biometric modular worksystems form part of the premises. Considering the case of accessibility and use for specially abled citizens, the building is designed as a Barrier free building with Entry ramps, Universal Lift & Toilet, Tactile flooring tiles
There is also a Provision for Dedicated Server room with seating for the staff and a meeting room equipped with all the facilities as per the requirement of NIC, Computer Inb, Library. The Landscaped Surroundings enhance the ambience around the building and provide independent parking for about 40 cars and more than 100 two wheelers.