Valpoi:The traditional clay Ganesh Idol makers from Sattari who are in this field for more than four decades have demanded that Goa government should hike the subsidy provided to them.
The artisans have claimed that the mud, which is required for the Idol has to be sourced from neighbouring state, and it has become costlier, resulting in losses.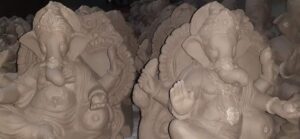 The state government is currently offering subsidy of Rs 100 per idol for the artisans, with the upper limit of Rs 15,000 per artisan.  This scheme is implemented through Goa Handicrafts Rural and Small Scale Industries Development Corporation.
The artisans stated that they cannot pass on the increased price of the Ganesh Idol to the consumers. The idol is costing around Rs 500 to Rs 800 depending on its size.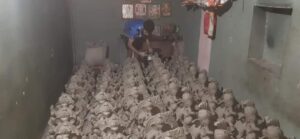 "The villagers from remote areas normally bargain and try to get the idols for lesser amount. Since we are getting just rupees 100 as a subsidy, we are demanding that it be increased to at least rupees 400 for artisans from rural areas," says Deepak Gaonkar, a Ganesh Idol Maker.
I am making Ganesh Idols for the past 70 years in my village of Pali. Now I am selling one idol for Rs 500, but still the villagers bargain for lesser price.
"The same idol is sold for rupees 5,000 in Sankhali, Bicholim or Mapusa markets. Taking into account  the expensive mud we buy from Maharashtra and the good quality colour. We are not making any profit from these mud idols said Budaji Gaonkar a clay idol maker.
The mud from Goa, which we were using ealier to make Ganesh Idols is no longer good because it contains tiny stones which make the idols develop the  cracks. "So I stopped using Goan mud and I am buying mud from Maharashtra for the past 12 years. They charge rupees 10,000 for one truck, plus with transport and other charges it is no longer feasible for us to make clay idols," says another Idol maker Anand Gaonkar.