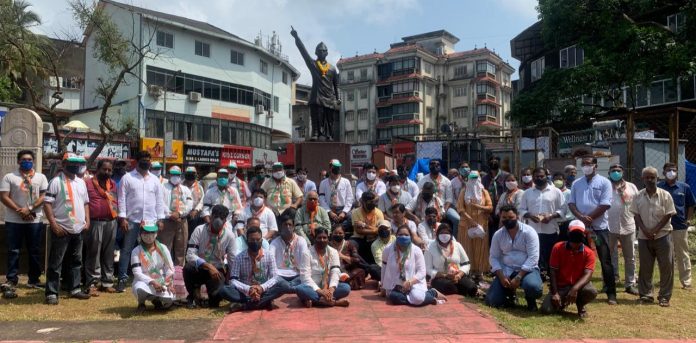 Margao: Protesting against injustice is the Constitutional right given to every Citizen. The issues can be solved by a dialogue and not by using Police force. It is the duty of every Citizen to share grief of others. Today, the entire Nation is grieving about the gruesome rape incident in Hathras. Our leader Rahul Gandhi and Congress General Secretary Priyanka Gandhi were detained unlawfully when they were on their way to pay condolence visit to the family of the 19 year young girl who was murdered by the goons in Utter Pradesh. We strongly condemn the highhandedness of the BJP government and warn that if this attitude of the government continues than people will revolt all across the State warned Leader of Opposition Digambar Kamat.
He was speaking to the media during the Protests by Congress Party at Lohia Maidan, Margao. GPCC President Girish Chodankar, General Secretary Subhash Faldessai, Secretary Damodar Shirodkar, South Goa District Congress President Joseph Dias, Youth Congress President Varad Mardolkar, Margao Block Congress President Gopal Naik, former Chairperson of MMC Doris Teixeira, Councillors Damodar Naik, Manoj Masurkar, Deepa Shirodkar, Avinash Shirodkar, Margao Youth Congress President Ubed Khan, former Councillor Laxmikant Kamat, Dhananjay Mayekar and other Congress workers participated in the protests which were held to condemn the atrocities against Women by BJP Government and highhandedness of the UP government against Congress leaders Rahul Gandhi and Priyanka Gandhi.
Digambar Kamat said that BJP is giving slogan of "Beti Bachav" but in BJP ruled Uttar Pradesh there are repeated incidents of rape on young girls and women. Remembering the slogan of "Jai Hind" given by Dr. Ram Manohar Lohia, Digambar Kamat said that a time has come to start another agitation against the dictatorial BJP government. Digambar Kamat expressed shock over imposition of Section 144 by the BJP government in Goa to stop the peaceful march of "Save Mollem and Anti-Double Tracking of Railway Track" protestors.
GPCC President Girsh Chodankar strongly condemned the action of the UP Police against Congress Leaders Rahul Gandhi and Priyanka Gandhi. He said BJP government is all out to supress the voice of Farmers, Dalits and Women in the Country and his trying to bulldoze the democratic rights of the citizens. He said various Blocks will observe Gandhi Jayanti and Shastri Jayanti by staging peaceful demonstrations against the Farmers Bills passed by the BJP government few days back. Girish Chodankar categorically stated that the Congress Party will fight for the rights of the common man and will continue to be the voice of the Citizens.
South Goa District Congress President Joseph Dias condemned the act of BJP government to supress the voice of Dalits. He also stated that the BJP government is patronizing the criminals and hence, the crime rates are growing in the Country.
There was large Police force deployed at Lohia Maidan in view of the Congress Protests.