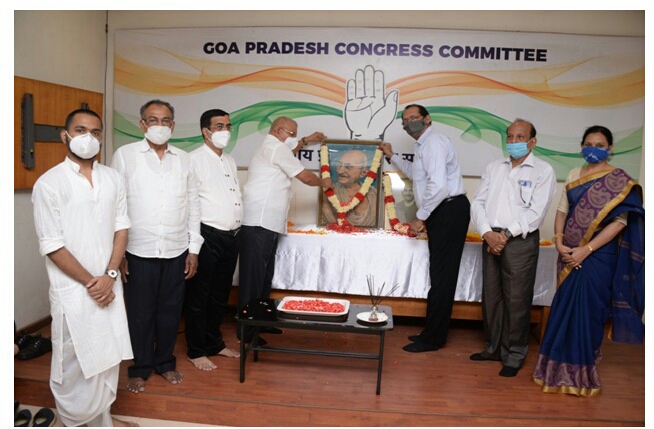 Panaji: GPCC Celebrated the 151st Birth anniversary of Mahatma Gandhi and 116th birth anniversary of Lal Bahaddur Shastri. Vijai Pai Gen Sec. introduced to the speakers of the programme, Former Chief Minister Luizinho Faleiro, MLA of Navelim Constituency and Member of Parliament Shri Francisco Sardinha paid tributes to Gandhiji and Lal Bahaddur Shastri. Many other karyakartas were also present for the function.
 "Gandhiji taught the world the principles of Non-violence and truth" said Sardinha. Gandhi fought hard against the colonisers he gave us freedom, when he was in south Africa he raised his voice against racial discrimination there. He could have easily lived his life as a barrister making money but he chose the life of a Satyagrahi and non-violence. "The government of India should take inspiration from the mahatma" Sardinha added.
Also present for the meeting was Luizinho Faleiro who opined that Lal Bahaddur Shastri had a lot of love and affection towards Soldiers and Farmers and it is no surprise that he coined the slogan "Jai Jawan Jai Kissan", and we need to apply this slogan now than ever because the state of farmers in our country is dreadful. Mahatma Gandhi is a world leader who inspired not only indians but also various other countries who have erected his statues in their respective countries, everybody should learn from this great leader he said.