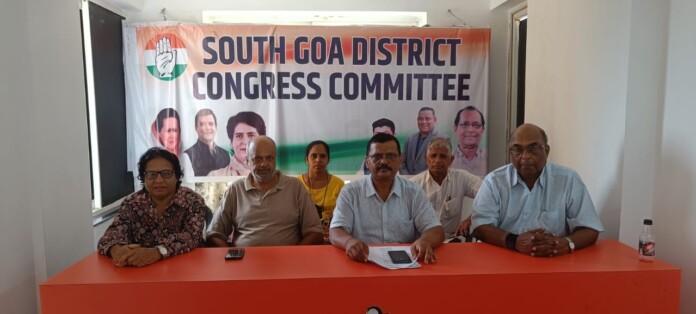 Margao: Margao Congress today condemned the Margao Municipal Council over the adoption of the revised plinth area rate's, which once implemented shall become an additional financial burden to the extent of 38 to 45%. Congress party demanded that the adoption of revised rates be immideatly stalled.
Addressing the press, along with Arch. Carlos Gracias, Aneil Alvares, Lalan Parsekar, Aziz Shah and Sujata Parsekar, Congress leader Mr. Savio Coutinho charged that the rates were adopted under the directions of Margao MLA Digamber Kamat, while charging the MLA of hypocrisy. Further confirming his charges against the Margao MLA, Mr. Coutinho stated that the MLA held a meeting of the MMC councillors on 2nd November at his Malbhat flat and gave the direction for adoption of the revised rates.
Mr. Coutinho who was also present at the Council meeting on 3rd November stated that the entire media is witness to the manner in which the Chairperson Damodar Shirodkar blackmailed the Councillors who demanded that the adoption be deferred. Mr. Shirodkar was clearly heard instructing the staff to record the names of the councillors who were not in favor of the adoption, stating that they would be responsible in the event of any adverse effects.
The demand from the Ex Chairperson Ganeshyam Shirodkar to hold a joint meeting with the associate MLAs was also turned down by the Chairperson so as to save his mentor from being exposed, Mr. Coutinho charged.
Mr. Coutinho stated that on 3rd August 2023, the Margao MLA was heard showing concern for the common man, and he called for the rationalization of tax structure so as to minimize the impact on common man. And exactly after 3 months he himself directed the adoption of the revised plinth area rate's.
Giving details of the additional financial burden on license seekers Mr. Coutinho said that construction license fees for a 100 sq mts residential house/flat was already very high at 67,614/- , which will now rise up to 93,307/-. Similarly, a 100 sq mt commercial premise, which earlier had a license fee of 76,916/- will now be charged 1,11,530/- he revealed.
It was also revealed that there were several additional charges based on the other amenities in these premises. Provision of lifts, type of flooring, architectural features have additional fees tagged to them, which could not only be a burden, but also a means of corruption, Mr. Coutinho stated while calling upon people in other Council's in Goa to be alert.
Mr. Coutinho warned that slowly but surely these rates would be applied for house tax calculations, thereby increasing the house tax manifold. He condemned the Chairperson for making false statements that the revised hikes in rates were implemented by other Council's across Goa.
Mr. Aneil Alvares warned the public that this adoption would have cascading effects on the common man if the adoption is not rolled back.