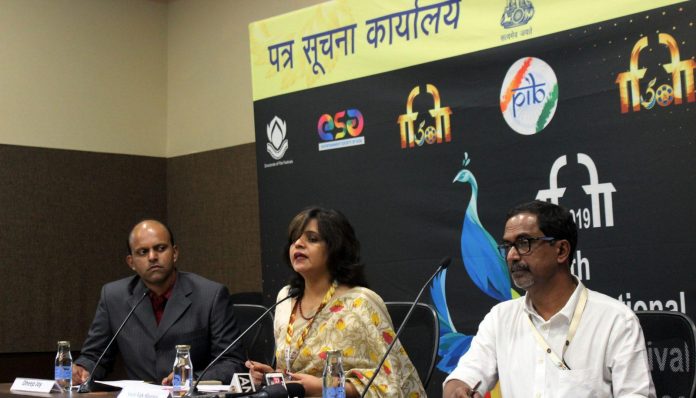 Festival Director, Mumbai International Film Festival (MIFF as it is known globally), Smt. Smita Vats Sharma has called for the widest and biggest participation of film-makers and film lovers, for the 16th edition of the oldest and largest film festival for non-feature films in South Asia. Addressing a press conference at the ongoing golden jubilee edition of the International Film Festival of India, Smt. Sharma, who is also the Director General, Films Division, Ministry of Information & Broadcasting spoke of the various new initiatives which are being undertaken, in order to make the festival better, different and more inclusive. "The 16th edition of MIFF brings in a lot of valuable content for film makers, media students and cineastes. The current edition of the festival will feature, apart from riveting films drawn from across the globe, workshops, master classes, open fora, lecture-demonstrations and panel discussions on crucial aspects of cinema and filmmaking.  The MIFF 2020 will have a number of  attractions, such as a special package  of films from European Union, Irish Docs & Shorts,  Oscar films, Films from North-East India, Satyajit Ray films, Best of various International Film Festivals, Retrospectives of internationally eminent film makers, student films from FTII / SRFTI / NID / FTIT/ Srishti / Craft School/ Whistlingwood, etc., apart from Open Forum by IDPA, editing workshop by B. Lenin, master classes by  acclaimed animator Michael Dudok De Wit (Poland), senior film academician Thomas Waugh (Canada) and by Jury Members. Added attractions are sculpture and Photo Exhibition-cum-demonstration commemorating 150-year Birth anniversary of Mahatma Gandhi and Centenary of Satyajit Ray. There will be a special package paying homage to legendary documentary makers like Mrinal Sen who passed away in last two years. Participation of young adults with intellectual challenges with their short films will be another attraction of the 16th MIFF."
Smt. Sharma further informed that, "MIFF not only recognises best talents in documentary, short fiction and animation films by bestowing Golden and  Silver Conches and trophies, but it also gives away handsome cash awards in different competition categories. The highest and most prestigious award in the 16th MIFF, the Best Film of the Festival carries a cash prize of ₹10 Lakh and a Golden Conch while other awards carry cash awards varying from five to one lakh along with trophy and certificate.  A special award for the best short film on Water Conservation and Climate Change has also been instituted in the current edition of the festival", Director General informed.
The much-awaited documentary film festival of India, will be inaugurated on 28th January, 2020 at the Nehru Centre Auditorium, Mumbai. The week-long fiesta of best documentary, short fiction and animation films from across the world will conclude on 3rd February at the same venue. The screenings and other sessions will be held at the Films Division theatres at Pedder Road, Mumbai. The Festival Director informed that efforts are being made to organize screenings at select educational institutes in Mumbai, to improve the reach of the festival and to encourage younger and larger audiences to get more interested in documentary films.
The coveted Dr. V Shantaram Lifetime Achievement Award that carries a cash component of ₹10 Lakh, trophy and a citation will be presented to a filmmaker for seminal contribution to the documentary films and its movement in India on the opening ceremony of MIFF on 28th  January while awards in various competition categories will be presented on 3rd February at the closing ceremony.
The online entry of films in the 16th MIFF is activated and cut-off date for submission of film is 4th December, 2019. Film makers may log on to www.miff.in for Festival Rules & Regulations and for submission of film.
The Organising Committee of MIFF is headed by the Secretary, I&B and consists of eminent film practitioners. MIFF is one of the important events in the festival calendar of documentary film making world and the most eagerly awaited one by filmmakers, especially of non-feature genre, in India.
Students of J. J. School of Arts will organise a special exhibition to commemorate the 150th birth anniversary of Mahatma Gandhi and they will also do live sculpture making. There will also be screening of films made by visually challenged film-makers, informed Shri Anil Kumar from Films.
A video on MIFF and a small video showing the inauguration of National Museum of Indian Cinema was also shown during the press conference.