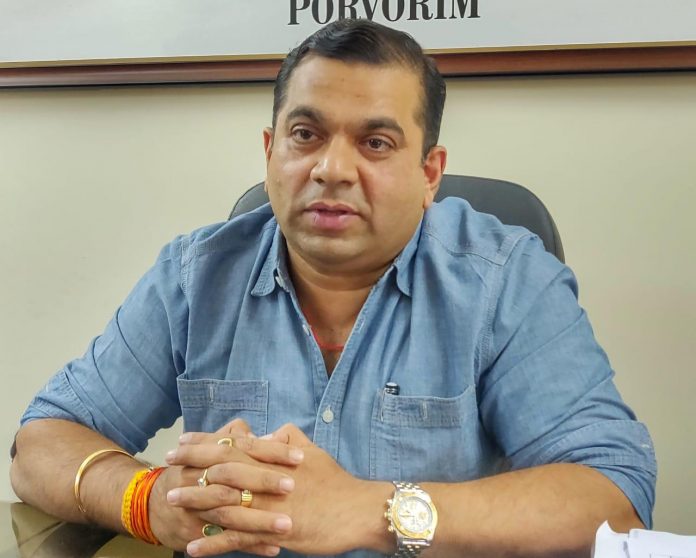 Porvorim: Independent MLA Rohan Khaunte on Thursday said that the nexus between Congress and BJP parties have been completely exposed after the panchayat members took extra interest in removing his banners.
Khaunte has questioned why same panchayat members are not acting against the illegal slums which are being developed in the panchayat area, when they can take action against the banner, which were put up to wish the people.
The Independent MLA said that the action against the banner was taken after local Congress worker complained to Succoro panchayat.
The panchayat which is controlled by BJP took no time to act on the letter and removed the banners. "I  should appreciate the swift action they took on banners, all the members were there to remove the banners," he said questioning silence of same panch members on gross illegalities like slums taking shape in the panchayat areas.
"They have shown at what cheap level they can go.  Their singular issue is Rohan Khaunte. They don't want development to take place in the constituency," he said.
Khaunte said that the Sarpanch who went to remove the banner should explain why he has allowed slums to be developed in his own area.
"There has been slums developing which I have been shouting," he said.
Khaunte accused BJP leaders including Chief Minister Pramod Sawant, Panchayat Minister Mauvin Godinho, Revenue Minister Jeniffer Monserratte, Health Minister Vishwajit Rane of turning blind eye towards the illegalities in the constituency.
"They are protecting the six members who have committed major crime of fraudulently transferring communidade land in their dead father's name.
The amount of interest that they have taken on banners, they should have taken on the illegal structures," he said.
"Panchayat of which  half of them have gone into BJP are acting on the whims and fancies of congress workers who are funded by the BJP people directly," he said.