Oncologist Dr Shekhar Salkar is not a new name in Goa's medical field. He is also known for his penchant for the game of Cricket besides his deep knowledge in oncology. His journey is an inspiration for those who never fall short of dedicating his life for the betterment of his motherland
If you feel that doctors are intense and unexciting people, then you need to meet renowned Goan oncologist Dr Shekhar Salkar, who is the chief of department of oncology in Manipal Hospitals, Goa. Probably this is one spectacular quality of Dr Salkar that makes him stand out from the rest of medical practitioners. In more than three decades of knowing him, we have never seen a sign of disgust in his face even when he is dealing with the most difficult case.
Being from a family of entrepreneurs, it was not a customary decision for him to become a doctor. But, his mother's desire and eventually death due to cancer when he was merely a teenager propelled him to take up the profession so that nobody loses his life because of poor cancer care in the state.
 "I never had the confidence that I will become a doctor but my mother was very much interested in making me a medical professional.  I was not a very intelligent student, who used to get high marks but somehow I managed to get good marks to enter this stream. When I was in 12th my mother suffered from cancer and unfortunately she died in six months," Dr Salkar said, adding his regret that "but she was not there to witness my success."
Salkar states that becoming a doctor was his destiny but becoming  a cancer surgeon was his own choice. He used to get intimidated and at the same time encouraged to meet ace cancer specialists Dr Prafull Desai and Dr M R Kamat of Tata Memorial Hospital, Mumbai (then Bombay), where his mother was admitted.
 "Many people aspire something but they can't get it. I was very lucky. I was lucky also because I was born in a family which was well to do. There was always an encouragement to study. We were pampered a lot and childhood was ultimate. "We belong to the best generation. We have seen best of yesteryears and also the new things which are coming up right now including mobile phones, YouTube, Google etc. I have also heard Cricket commentary on radio. During 1982, when Asiad Games was hosted, television was brought to our home. We were listening to commentary while studying," he recalled.
When asked about childhood, Salkar became nostalgic remembering the time when he went to 'balwadi'.  "Ours was a big family. We were seven of us. We call ourselves as seven Salkars. We had a fantastic life. Even right from childhood, I was the most notorious kid," he cheekily reveals.
Born in a small town of Bicholim, Salkar who is now a nationally famed oncologist, says that he will never discontinue his roots and will continue leading a mediocre lifestyle no matter what happens in the future. "I don't like staying in a flat and city culture. I am comfortable at my home.  It is my ego actually. I am very egoistic about the fact that people from across the state will come to meet me in the evening at Mardolkar Hospital at Bicholim. I have been practicing at Bicholim in the evening. That is like a big thing because when you belong to a small town, you are always proud of it," says Salkar.
Dr Salkar did his Medical Sciences (MS) from Tata Memorial Hospital, Mumbai. After his MS, he also had his share of struggle. He was not getting admission in surgery or medicine, so he also did diploma in Pediatric. When one of his professors asked his whether he had applied in the same hospital from where he did MS or not, it was then he was stuck with the idea.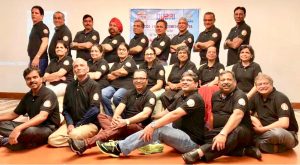 "I took the bus and went to Mumbai and stayed at Ajit Kadkade's home (singer). He took me to a senior scientist Chitnis, who eventually knew Dr M R Kamat."
Remembering his initial days of struggle as a fresher, Salkar said he had to work for one and half year outside Tata Hospital. "That time Sion hospital was like an asylum for Goans. I had a cousin who helped me to work there on a temporary basis. There, we were not able to sleep for almost 48 hours. The nurses did not help even to collect the blood samples. I could not work and I was issued memo and warning. That was the time when I contacted my brother Vallabh back home, who asked me to come back home on a weekend. When I was back, I told my brother about my difficulty. He gave me 12 cashew packets and 12 feni bottles. On returning to Mumbai, I gave the feni bottles to one of my seniors who used to like drinking feni and I distributed 12 packets of cashew to the nurses. This plan worked very well," Salkar remembers.
Like they say, struggles never stay forever. He adds, "My life became much easier after that. I then started conducting operations. That made a big difference. I was earning Rs 1,200 a monthly salary. We used to spend our Sundays at the residence of Ajit Kadkade. Two more of our friends used to join us. One was Apa Teli who was engineer in Air India and Sanjiv Kadkade who was in catering college. We used to roam Mumbai on Saturday and Sundays. That stopped us from feeling home sick."
Dr Salkar recalls how Bhivandi riots gave him the most challenging time as a medical practitioner during which he worked with minimum resources. "Nothing could match the challenge there. We could see all kinds of casualties," he said.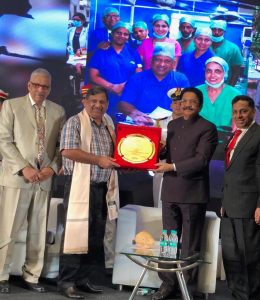 Salkar then shifted to Sushruya Hospital. Salkar recalls working with Dr Nandu Lad who was famous for operating former Prime Minister Atal Bihari Vajpayee. Salkar said that he used to get work under the top surgeons and gained a lot of experience.
"All the current 'A' level surgeons in Mumbai were my teachers. I got junior residency and that was a life changer. Then I wanted to be a cardiac surgeon," said Salkar.
"There were opportunities everywhere including JJ hospital, Nair hospital except KEM. But my dream was to join KEM hospital. Somehow I had craze for KEM. When I was going through this situation, suddenly senior residency in Tata Hospital was announced and I got through there."
In the year 1990 when Dr Salkar completed the residency, he took the bus and rushed back to Goa.
"The biggest compliment was from my boss Pradhan who said that he wanted to make a cassette of my journey when I landed in Mumbai and when I left from there. He told me that you will be very successful as a doctor because of my style of talking with the patients and dealing with them," Salkar said.
The most important phase of Salkar's life was when he returned back. His father firmly believed that looking at his age, no one would trust conducting an operation from him. "I went to GMC seeking to join there but they told me that there was no vacancy. Then I started my private practice. The first cancer operation that I conducted was on my uncle who had male breast cancer. I operated on him at Salgaoncar Medical Research Centre in Vasco. He survived for 15-20 years," recalled Salkar.
Salkar feels that he is thankful to few doctors like Dr Sham Bhandari, who installed confidence, Dr Raut Desai and Dr Pradip Dhungat, who helped him to start his career. He is now the Chief of clinical services at Manipal Hospital, Dona Paula. Salkar also represented the state in Cricket, which he perceived as a hobby. Salkar is also a member of the Lions Club and is heading the National Organisation for Tobacco Eradication. He has also been Goa unit president of Association of Surgeons of India, Indian Medical Council.