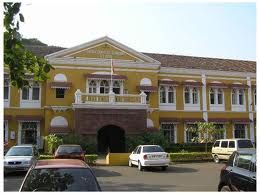 Panaji: Former Deputy Speaker of Goa Legislative Assembly late Vishnu Wagh's widow has recently petitioned Goa Bench of Bombay High Court challenging State government's decision to withheld the pension, which her family is eligible for.
 In the petition filed before the High Court, this month, Aruna Vishnu Wagh had pleaded that the State government be ordered to grant 'family pension' for her and her two sons aged 12 and 16 as she is lawfully eligible for it under 'Goa Salary, Allowance and Pension of the members of Goa Legislative Assembly Act, 2004'.
She has said that the State Directorate of Accounts in August, 2019 had communicated to her  that they cannot considered her claim for the pension as she has been working as Education Officer at Union government's National Board for Workers' Education and Development and draws a salary.
The petitioner said that two months later, she received another letter from the Accounts department, which stated that due to legal issues, the matter has been referred to law department for the opinion.
Wagh, in her petition, has said that the department has not considered special status granted to the Speakers (of legislative assembly) of the state.
She has said "nowhere it is laid down that for grant of family pension to widow/widower, either of the spouses is precluded/debarred from the receipt of family pension for drawing separate income or being employed in a central/state government organization or otherwise."