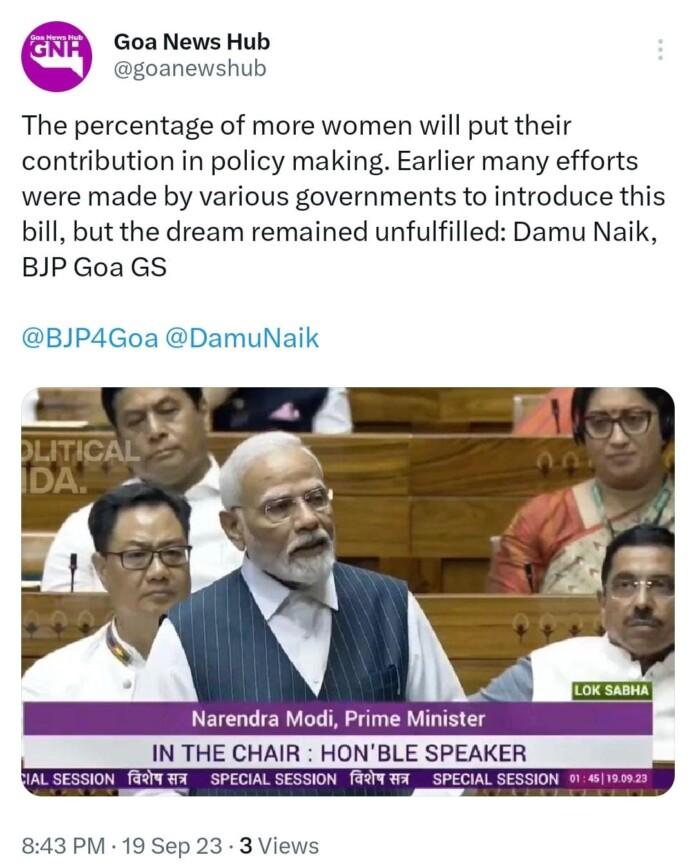 Panaji: Bharatiya Janata Party's Goa unit on Tuesday welcomed the decision of the central government to introduce Women's Reservation Bill in the Parliament.
BJP Goa General Secretary Damu Naik, in a media statement released here, has said that the Bill is "an important step towards women empowerment."
"I congratulate Narendra Modi ji and BJP government for introducing Naari Shakti Vandan Bill in the New Parliament Building, it's an important step towards women empowerment," said Naik, a former MLA of Goa Legislative Assembly.
He said that it is the historic decision to grant reservation for women in Lok Sabha and State Assemblies, which was pending for several years.
"The rights of women and upliftment of women will definitely expand the participation of women in active politics," he said.
Naik said that this Bill will give one-third of seats in the State Legislative Assemblies and the Parliament.
"The percentage of more women will put their contribution in policy making. Earlier many efforts were made by various governments to introduce this bill, but the dream remained unfulfilled," he said.