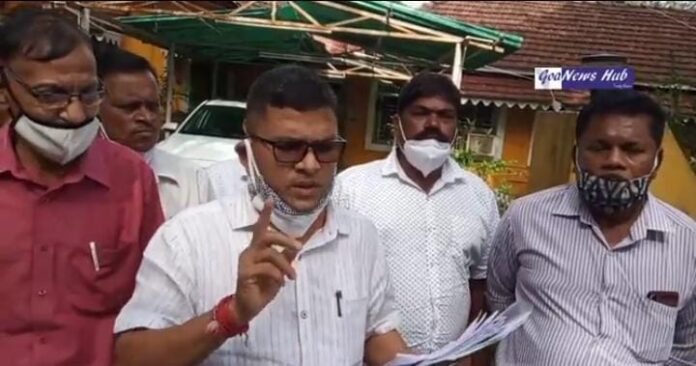 Panaji : Prasad Gaokar MLA of Sanguem Constituency has written to Election Commission of India, Ministry of Law and Justice, Delimitation Commission of India and National Commission for Schedule tribes. The memorandum submitted to above authorities was also signed by Madhu Gaonkar, Barkelo Gaokar, Nemu Madkazker, Anant Wadkar, Shyam Sangodkar.
Gaonkar has complained about the Non-Implementation of reservation for Schedule Tribe candidates for Goa State Assembly Elections as prescribe under Article 332 of the Constitution of India, Section 9 of the Delimitation Act, 2002 and Section 17 of the Goa, Daman and Diu Reorganization Act, 1987.
Gaonkar has alleged that "The Schedule Tribe communities have been completely deprived of their constitutional rights of proportional representation under Article 332,  since there never was any reservation of seats for the Schedule candidates for assembly elections in the Sate of Goa".
Article 332 of the Constitution of India provides for reservation of seats for the Scheduled Castes and the Scheduled Tribes in the Legislative Assemblies of the States
It is pertinent to note that, the clause one of the same article says "Seats shall be reserved for the Scheduled Castes and the Scheduled Tribes, except the Scheduled Tribes in the tribal areas of Assam, in Nagaland and in Meghalaya, in the Legislative Assembly of every State"
Gaokar has asserted that one seat at Pernem out of the forty constituencies was reserved for Scheduled caste candidate in Goa "however, despite the significant larger population of Scheduled Tribes in Goa especially higher concentration in Sanguem, Quepem, Nuvem and Priol constituencies in terms of  2011 census the ST population has been deprived of their reservations in State Assembly seats as mandated under Article 332" added Gaonkar.
Department of Social Welfare in the sate of Goa has prescribed a 2% reservation for Schedule Caste candidates and 12% reservation for the Scheduled Tribe candidates in proportion to the total population of the sates "yet even after elaborate provisions the ST community has not been represented property in legislative assembly" stated Gaonkar.
He has now requested the concerned authorities to take the cognizance of these provision and initiate necessary action from their end to give representation to STs according to the provisions of the Constitution of India.
With the term of present assembly ending on 15 March 2022, the demand made by Prasad Gaonkar will likely influence the political plans for the next assembly election of each party. That is if STs are given adequate representation in the above constituencies.