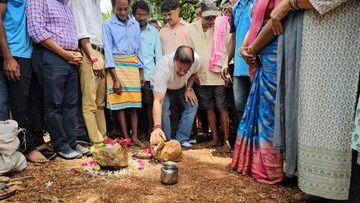 Valpoi: Health Minister Vishwajit Rane on Tuesday
laid the foundation for the development of an internal road in Uste Ward No. 2, Sattari, in the presence of AE, PWD Devendra Velingkar, JE, PWD Arvind Sawaikar, ZP member Rajeshree Kale, Sarpanch Sandhya Khadilkar, panch members, and others.
This road, once a kaccha road with partial gravel, holds the promise of transformation for the residents of Uste and the surrounding areas. The state of this road not only hampered daily commutes but also brought troubles to the regular routines of the people.
"Our commitment stands strong as we work hard to ensure the people of Sattari are provided with the best services. With collective efforts, we strive for the overall development of our constituency," he said.