Sanguem: The second round of Sanguem Rural Champion League was held on Sunday in which Saishakti Warriors were crowned as winners after beating Bhuto Warriors.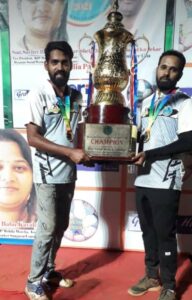 The total of ten Franchises participated in the tournament.
SRCL is  a concept to promote  Cricket in Rural Area of Sanguem. This tournament was organized by Social worker and Prime Video Journalist Amit Naik.
The tournament matches were played Day Night, with semi finals and finals in the Flood  light.
This was the first season of the tournament which was included 3 panchayat namely Netravali, kurdi -Vaddem , Pirla panchayat.
The prizes for the tournament included Cash prize of Rs 1,00,000 with a trophy and Runner up Cash prize of Rs 50,000.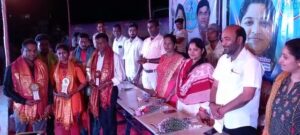 Rajya Sabha Member of Parliament Vinay Tendulkar and BJP Mahila Morcha Vice president  Savirti Kavalekar were present as the Chief Guest, while other guests included social worker Rakhi Naik, Antonita Mascarenhas, panch VP Netravali, Goa Ranji player Darshan Misal, Goa Cricket Coach Sarvesh Naik, Janu Zore, panch VP kurdi Vaddem , kusta Gaonkar, Deputy Sarpanch Kurdi Vaddem,Shashikant Gaonkar, Ex Sarpanch V.P Netravali were present. Sarvesh Naik, Shashikant Naik, Flyta Antao,Sagar Gaonkar and Balsu velip were Felicitated.
In her speech, Kavlekar congratulated the organizers for organizing such an event.
She said that such type of tournament should be held to promote sports in Rural Area. Also Reassure to Complete 2nd phase of ground Also to erect Flood lights which was demanded last time with the help of M.P Vinay Tendulkar.
Vinay Tendulkar appreciated Savitri Kavalekar for sponsoring such Mega  events to promote youth in sports.
Live music performance was  main attraction of the tournament.Tournament was live streamed on we For  Sanguem You Tube channel.
Prime TV and www.goanewshub.com along with We For Sanguem was media Partner for the event.