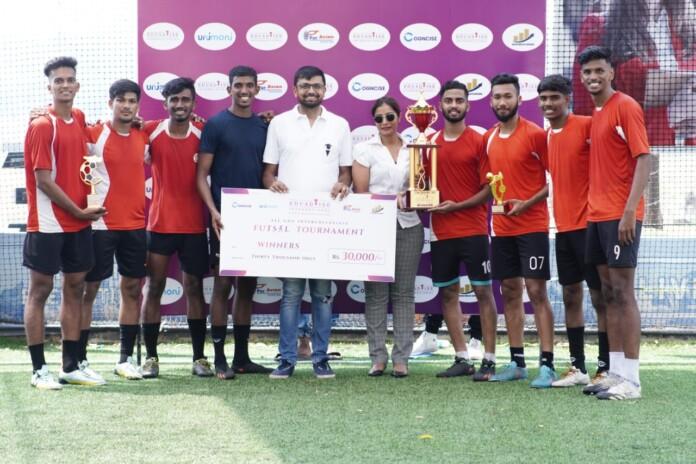 Margao: Rosary College, Navelim won the first place at the Eduadvise International Futsal 2 day tournament held at The Base, Seraulim on February 18 and 19, 2023. The tournament was part of an all- Goa intercollegiate competition with 16 colleges in attendance.
The final score was 3-0 with Rosary College walking away with the winning trophy and a cash prize of Rs. 30,000. Dempo College took the second prize winning a trophy and Rs. 15,000. Earl Fernandes and Presley Cardozo of Rosary College won the Best Goalkeeper and Best Player respectively, each winning a trophy and Rs. 5000 cash prize for exemplary performances.
The tournament was refereed by Rosario Fernandes, Stanley Dias and Mahesh Kamble from Goa Football Association.
The prize distribution and felicitation took place in the presence of Viola Pacheco, Deputy Sarpanch, Betalbatim; Timoteo Colaco, National Secretary, Travel Agents Association, India, Goa Chapter; Pundalik Chari, Sr. Development Manager, Unimoni, Forex services; Darshan Goradia, Director, Eduadvise International; and Carlton Noronha Dias, Director, ND Global Solutions.
A special feature at the event was a woman's futsal match with participants from Carmel College and MES College.
The exciting Futsal tournament was especially curated by Eduadvise International, Margao, a leading Goan based international higher education consultancy. Mr. Goradia said, "This intercollegiate futsal event was an effort to build awareness about the various opportunities for Goan students with plans to travel abroad for higher studies."
Sponsors and major supporters of the event were Cogncise Business Services, Unimoni, Par Avion Travels and Tours, Shiven Wealth Advisers, Pepsi- Varun Beverages Ltd., Krishna Multi- Cuisine Veg Restaurant, Imperial Hospital, Goa Sports & Fitness, Champions Sports Store and Kris Kross.
Eduadvise International Brief:
A boutique overseas educational consultancy with a comprehensive solution for students who wish to pursue their education abroad. Our core activity lies in assisting students to make the right choice of colleges/universities while making the process easier in terms of educational loan, visa, and travel assistance. Our commitment to helping you achieve your dream of pursuing studies abroad is not restricted to a place of work and four walls, it's much stronger than that. We provide information regarding higher education in various countries such as the UK, USA, Canada, Australia, New Zealand, Singapore, Ireland, France, Germany, Dubai, Switzerland and many more.
Our team consists of experienced and professional consultants and advisors who will guide you to find the right college and course, besides assisting you in your application, SOP, visa process and other documentation, including assisting you with a stay.