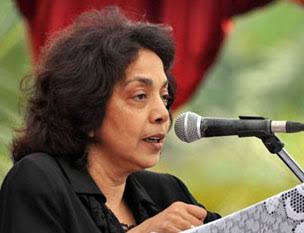 Panaji: A controversial statement by senior Railway official to lady Goa BJP MLA Alina Saldanha terming Goans as "Portuguese" on Sunday has sparked a major controversy in the coastal state.
While Saldanha has said that she will take up the matter with Union Railway Ministry, the Aam Admi Party (AAP) has termed it audacious the utterances of the railway official.
South Western Railway Manager Ajay Kumar Singh on Sunday while addressing a delegation led by Saldanha in South Goa, which has been opposing double tracking of the railway line, had said termed Goans as "Portuguese."
"India has houses that are 5,000 years old. Goans were the invading force who came about 500 years back. When you all came, you also must have destroyed houses here… By you I meant Portuguese," Singh had said invoking immediate reaction from Saldanha, who had asked him to withdraw his statement.
Singh later had said that he was withdrawing his words.
Talking to reporters on Sunday, Saldanha said "we are not Portuguese, we are Indians. There's no doubt that we were under Portuguese rule for several years and we have got liberated."
"I will raise the issue (utterances of railway official) in the Goa Legislative Assembly and also will bring it to the notice of Union Minister for Railways," said the BJP MLA, representing Cortalim constituency.
AAP was quick enough to grab the opportunity to issue the statement lambasting the railway official and also blaming Saldanha for failing to protect the legacy of her husband, former minister Mathany Saldanha.
AAP Goa spokesman Pradeep Padgaonkar said that if the government cannot rein in officials of central institutions and allow them to insult honour of Goans , time had come for it to commit suicide. Padgaonkar also accused Saldanha of being incompetent to uphold the legacy of late Matanhy Saldanha and sought her resignation as her conduct was termed as disgraceful.
AAP Convenor Elvis Gomes who is in Delhi as a part of the Aap Election campaign, fired the first salvo through a tweet demanding dismissal of the railway official Ajay Kumar Singh and questioning whether NRC had already started in Goa. His tweet read.
"Despicable. How dare? A Manager of SW Railway Ajay Kumar Singh, Hubballi Div, insults @BJP4Goa women MLA Alina Saldanha.Says Goans are not Indians. @DrPramodPSawant , NRC started? @AAPGoa demands, if any self respect remains, get @PiyushGoyal @RailMinIndia to dismiss him. Now."
Party General Secretary Pradeep Padgaonkar in a video message spewed fire on the BJP by accusing the party of insulting the sentiments of the entire population of Goa. Stating that in the recent past, the BJP minster Javdekar was exposed lying through his teeth on Mhadei water issue and taking Goans for a ride, he added that the BJP mindset about Goans was exposed through utterances of officials of central ministries who had judged the weak capacities of the MLAs  in defending the interest of the state and it's people. He said that the defectors from the congress who had jumped into the BJP had further eroded the credibility of the government that was merely pulling on as per instructions coming from Amit Shah after the death of Manohar Parrikar.
"The remarks by Ajay Singh directed at Alina are 'audacious' and showed that the BJP MLA was found wanting in giving an adequate response. I call  upon Goans to boycott the BJP which is engaged in spreading communal poison through mindless laws such as CAA" said Pradeep.
He asked Alina whether she had forgotten that she was the wife of Matanhy Saldanha as her silence on critical issues affecting Goa was suggesting that she was a pawn in the BJP game of survival.   Padgaonkar said that a situation had now arisen that required Goans to make a choice between 'uncontrollable greed ' of MLAs or a selfless government like that in Delhi which had been upholding the rights of the common people to a dignified living.