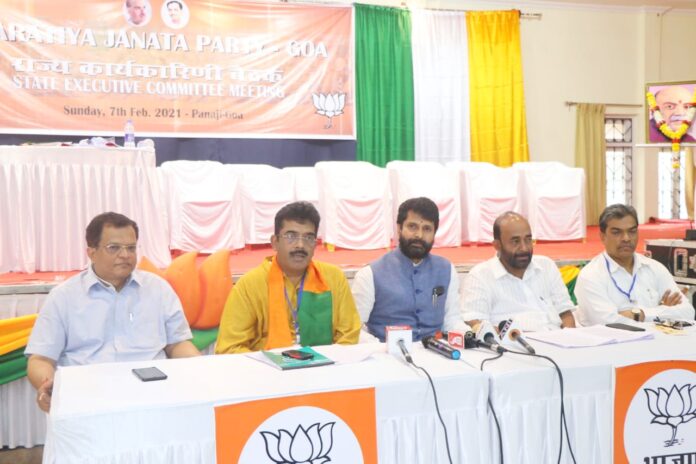 Panaji: The Bharatiya Janata party (BJP) to contest the upcoming 2022 State elections under leadership of Dr Pramod Sawant.
The announcement was made by BJP national general secretary and Goa in-charge CT Ravi during a media interaction post BJP State Executive Committee meeting held in Panaji today.
The meeting was chaired by Union Minister for Fisheries Giriraj Singh, BJP national general secretary CT Ravi, the chief minister Dr Pramod Sawant, State President Sadanand Tanavade, Deputy Chief Minister Chandrakant Kavlekar, Minister Michael Lobo, Jeniffer Monserratte, former CM Laxmikant Parsekar, and others.
Speaking to reporters post meeting, Ravi said that Pramod Sawant will be party's face for 2022 elections.
He said Sawant along with Sadanand Tanavade will ensure party's victory with complete majority.
Ravi also said that he is confident that the people of Goa will bless BJP during 2022 elections and the party will once again form government under Dr Pramod Sawant.
He said that the party and its government is doing comandable job. " People blessed us in Zilla Panchayat elections and they will do now in Municipal polls and then in 2022 election," he said.
Further, Ravi said that party has prepared a road map to strengthen its booth committees, which serves as our backbone.
Responding to a question about Mhadei river water diversion issue, Ravi said that both Goa and Karnataka will abide by the Supreme Court order. He said both the States will work in the State and national interest.
BJP President Sadanand Tanavade said that party backed candidates will win elections of all 11 Municipalities and Panaji City Corporation. The elections are likely to take place in March.
Meanwhile, the State executive committee passed a political resolution extending support to three linear projects- double tracking, power transmission line and national highway expansion. The resolution said that the projects are impt for State development & employment generation.
The resolution moved by party general secretary Damodar Naik slammed the opposition & Congress for its machinations & false propoganda against BJP government.
The executive committee also passed a resolution of motion of thanks to the Union Budget 2021-22.