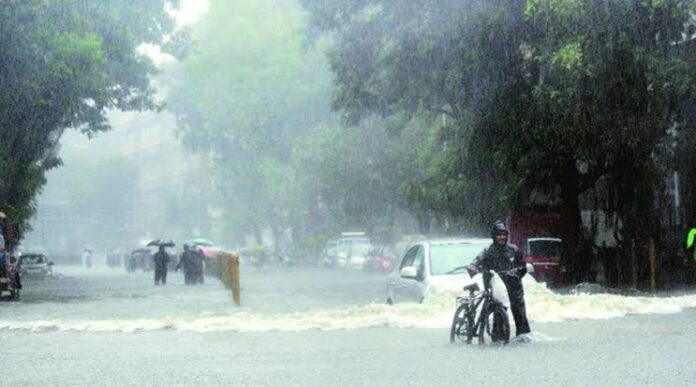 Panaji : A Low Pressure Area over Northwest Bay of Bengal & neighbourhood. There is high possibility of extremely heavy rainfall in Goa, Mumbai and Western Ghats in coming days
In continuation of previous forecasts, rainfall activity over Goa is very likely to increase on 22nd and 
23rd July
 because of the formation of a low pressure area over North West Bay of Bengal. Extremely Heavy Rainfall (Rainfall exceeding 20cm in 24 hours) is very likely at one or two places over the districts of Goa on 22nd July informed IMD Goa.
Considering the impacts of continued active monsoon, red colour weather warning is issued for North& South Goa districts on 22nd July. Likelihood of Very Heavy Rainfall (115.6 – 204.4 mm of rainfall in 24 hours) continues over North and South Goa districts for about 3 more days, with scattered and isolated spatial distributions.
Fishermen have been advised not to venture in to sea for 5 days starting from 22nd July. As on 22nd July following are the systems which can result in increased rainfall over Goa.
 A Low Pressure Area over Northwest Bay of Bengal & neighbourhood
 Off-shore trough at mean sea level now runs from south Gujarat coast to north Kerala coast.
Winds of speed 45-55kmph gusting to 65kmph are very likely along with rainfall spells. Intense spells for a short duration are very likely over
North& South Goa districts. With increased rainfall activity to continue, the areas vulnerable for landslide and flooding may be kept
under monitoring.
Water levels in rivers may be monitored and necessary precautions may kindly be taken. There are indications by Numerical Weather Prediction models that there could be reduction in rainfall activity from around 
25th July
 .