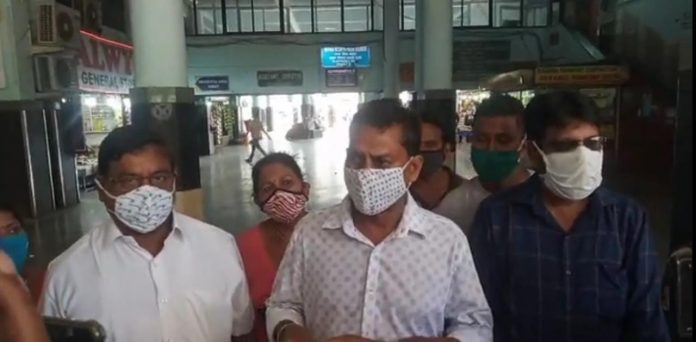 Porvorim: The residents of Porvorim today marched to the office of Transport Department in Panaji questioning the unwarranted action taken against the vendors by the department in their area, despite the businesses being legal.
The locals have decided that they will not pay fines to the RTO, and instead would move legally to know from the officers, under which rule of law, they were imposing the hefty fines.
The residents led by Zilla Panchayat member Gupesh Naik and Sarpanch of Pehna de Franca Swapnil Chodankar met Director of Transport in Panaji seeking clarification on the high-handed and selective action of his officials agaisnt the vendors in Porvorim, who are having their business in the demarcated spaces, without obstructing any traffic.
The locals claimed that the RTO officials were imposing heavy fines to the tune of Rs 5,000 on the poor vendors, who are eking out their living through small business. Despite having hand-to-mouth existence, these vendors are forced to shell out money, for no fault of theirs.
Local MLA Rohan Khaunte said that the people are trying to earn their living through various legal means, in the scenario where the livelihood has been adversely affected due to pandemic situation.
"We have also requested the local panchayats to extend their helping hand for the locals to get into small businesses. Government has stopped all the social welfare schemes, leaving people to fend for themselves. And when people are trying to do something on their own, they are being attacked through government agencies," the MLA said.
Khaunte said that Porvorim has not only become hotspot for COVID-19 outbreak but also for all the government departments to focus their vengence.
"We will not tolerate, if  officers are acting according to the directions of government. We have decided not to pay and instead move legally seeking clarification for the fines imposed on innocent vendors," he said.
Khaunte said that senior RTO officers are pointing out towards an NGO which has petitioned their office. "But when I spoke to the NGO, they told me that they have no objection against the vendors but they had complained against the converted vehicles used for various businesses," he said.
The Porvorim MLA said that while the action after complaint from NGO should have been pan-Goa, the state government is targetting only Porvorim constituency.
"I feel that the politics is being played and common people are being harassed," he said.
Khaunte said that officers, who blindly follow the unlawful dictats, will have to answer to the judiciary for their actions. "If some government servants are miscommunicating and executing the action for their own benefit, then they will also be taken to task," he said.