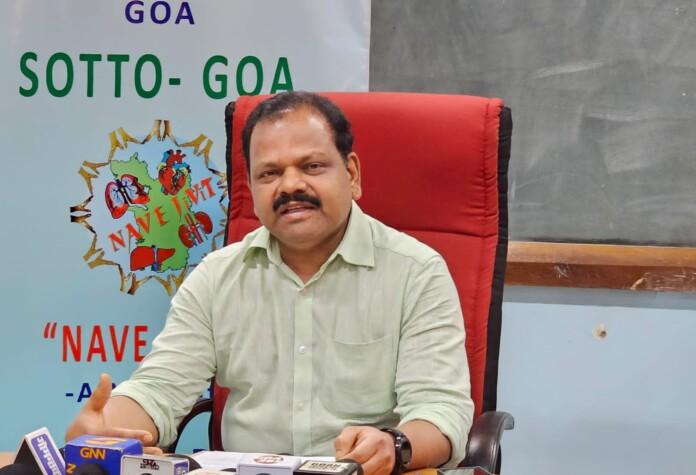 Goa Medical College conducted its Third Deceased Donor Organ Donation and Transplant. A brave decision of the family of a 19yr old boy to donate organs gave a new life to 4 patients awaiting an Organ Transplant.
The boy was admitted in GMC with severe head injury after falling from a height. Despite receiving the best medical care, his condition deteriorated, and he was declared "brain dead". When approached, the donor's family displayed great courage and made the brave decision to donate his organs.
The experts from Brain Stem Death Certification Panel Dr. Sanat Bhatkar, Consultant Interventional Neurologist, GMC and Dr. Kedareshwar P.S. Narvencar, Associate Professor, General Medicine, GMC performed Brain Stem Death Certification.
The complex procedure of the Organ Donation, Retrieval and Transplant was made possible with tireless work and smooth coordination between various departments of Goa Medical College.
As Goa has only Kidney transplant facility, SOTTO Goa allocated the two donated kidneys to Goa Medical College as per the waiting list maintained for Deceased Donor Kidney Transplant for Goa. The Heart was allocated to a 51 year old woman at H.N. Reliance hospital, Mumbai and Liver to 47 year old man at CIMS hospital, Ahmadabad by ROTTOSOTTO West Mumbai.
The crux of the deceased donor transplant program is MAXIMIZE BRAINDEATH DECLARATION, MAXIMIZE ORGAN DONATION, MAXIMIZE UTILIZATION AND MINIMIZE WASTAGE OF ORGANS.
In Goa, currently with hospitals registered only for kidney transplant, the allocation of the liver and heart was done by Region west under which our state belongs along with MAHARASHTRA, GUJARAT, MADHYA PRADESH, CHATTISGARH.
The Heart & Liver were transported by 108 Ambulance in the presence of Green Corridor Created by Traffic Cell Goa Police from Goa Medical Bambolim to the Dabolim airport.
The kidneys were transplanted at Goa Medical College into a 36year old and 28 year old recipients who were enlisted on the 'NAVE JIVIT' Deceased Donor Kidney Transplant Waiting list of SOTTO Goa. The Transplant Surgery's were performed by Dr. Madhumohan Prabhudessai, Prof. & Head, Department of Urology & Teamand the Transplant Physician Dr. J.P.Tiwari, Prof. & Head, Department of Nephrology, GMC.
All four Organs were Successfully Transplanted and the recipients are doing well and recovering as informed by the sources.
Organ Donation is the need of the hour as there are lakhs of people who lose their lives every year due to Organ Failure. Currently we have 44 patients registered onto the waiting list for kidney transplant of Goa. There is a need of awareness among our society about organ Donation. One Brain Dead DONOR can save upto 8 lives through Organ Donation and heal upto 75 Lives through issue Donation.
Brain Stem is a very important part of the brain that sustains life. After Brain Death it is not possible for someone to remain conscious. It is a stage at which all functions of brain stem have permanently and irreversibly ceased.Brain stem dead person is a unconscious dependent patient who cannot breathe on his own and is breathing through a ventilator. The lack of functioning of the brain stem is a sign of death and rest of the organs will eventually stop functioning even if the ventilator is continued. Any patient who is in the ICU and is declared Brain Dead can become an Organ Donor with the consent of the next of kin.
SOTTO STATE ORGAN AND TISSUE TRANSPLANT ORGANIZATION was set up under the NOTP program in 2019 at Goa Medical College. It's key functions are Coordinating organ donation, organ allocation as per Medical criteria, maintaining registry and doing training and awareness programmes. With similar function, there is ROTTO at regional level and NOTTO at national level.