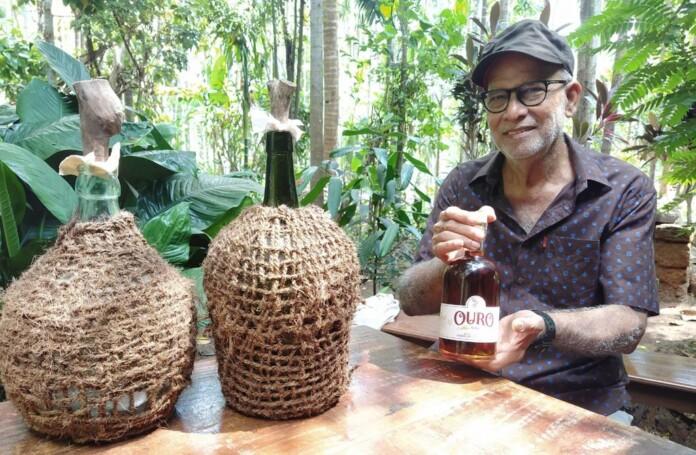 Goa Heritage Distillery, a small-batch distillery known for its commitment to craftsmanship and authenticity, is proud to unveil OURO, a remarkable Spiced Feni inspired by Goa's rich heritage. Crafted using traditional recipes passed down through generations, this exceptional spirit showcases the essence of Goa's cultural tapestry.
OURO, meaning "gold" in Portuguese, is a farm-to-bottle masterpiece that embodies the true spirit of artisanal production. Made exclusively from the juice of sun-ripened cashews, this 100% natural elixir offers an unparalleled sensory experience. Each batch is meticulously handcrafted using organic cashew fruit harvested from wild-grown trees, ensuring the finest quality and a distinct flavor profile.
As a third-generation family enterprise, Goa Heritage Distillery takes immense pride in preserving Goa's cultural traditions. Distilled in a copper pot still using time-honored methods, OURO captures the essence of the region's distillation heritage, paying homage to its roots.
Goa Heritage Distillery not only boasts a rich distilling legacy but also has deep agricultural ties. During the cashew season, guests are invited to partake in a captivating Cashew Trail experience. From harvest to stomping and distillation, visitors gain firsthand insight into the intricate journey that culminates in the creation of this extraordinary spirit.
"We are thrilled to introduce OURO to the world," says Ajit Malkarnekar, Proprietor and Master Distiller of Goa Heritage Distillery. "This labor of love encapsulates the essence of Goa's cultural traditions, from the organic cashews nurtured on wild trees to our family's expertise handed down through generations. We invite enthusiasts and connoisseurs alike to savor the vibrant flavors of our artisanal creation."
OURO by Goa Heritage Distillery is a 100% natural product, made without the use of Extra Neutral Alcohol (ENA) or artificial colorings. This ensures a pure and authentic experience, highlighting the natural character of the spirit, which is enhanced with local herbs and spices.
OURO will be available in limited quantities, adding to its exclusivity and desirability among discerning spirits enthusiasts. Stay tuned for release dates and availability information.
For more information, high-resolution images, and media inquiries, please contact: Ashok Malkarnekar info@goaheritagedistillery.com 9765364456
About Goa Heritage Distillery: Goa Heritage Distillery is a small-batch artisanal distillery dedicated to crafting exceptional spirits inspired by Goa's cultural heritage. With a strong agricultural background and three generations of distillers, they combine traditional recipes, organic ingredients, and a commitment to quality, resulting in extraordinary spirits that showcase the essence of Goa's traditions.